Beach weddings are hands down, our absolute favorite, especially when nautical details are incorporated in the wedding theme! Darling duo Hong Long and Chien-Yun created a wedding that told their love story.  With an utterly romantic beach backdrop, photographer Mark Hong of The Stage captured every beautiful moment of love flawlessly. Get ready for image after image of pure pretty!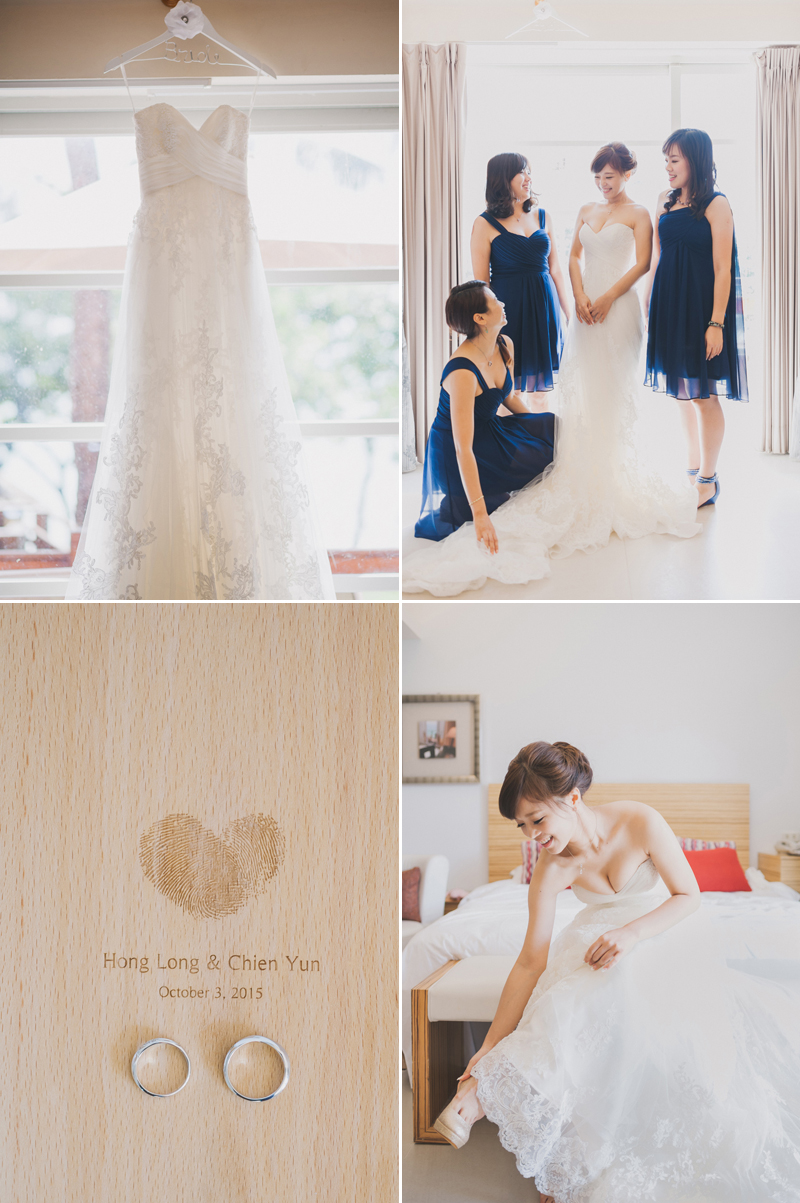 Love Story
From the Bride, Chien-Yun: We got to know each other through weekly badminton practice. On a raining day after class, while we were waiting for the pouring rain to stop, we started chatting and became friends. In the beginning of our "friendship", we didn't have much to talk about other than badminton, so we took things slow. It took us almost a year just to get to know each other more, and finally started dating.
We are different in many ways: I'm a teacher, and Hong Long is a Sailor; I'm a thinker and he is a doer; I'm a perfectionist and he is easy-going. We faced a lot of obstacles together, but I'm thankful for his persistence and gentle heart. Every moment we spent together, even in the most difficult days, were warm and sweet.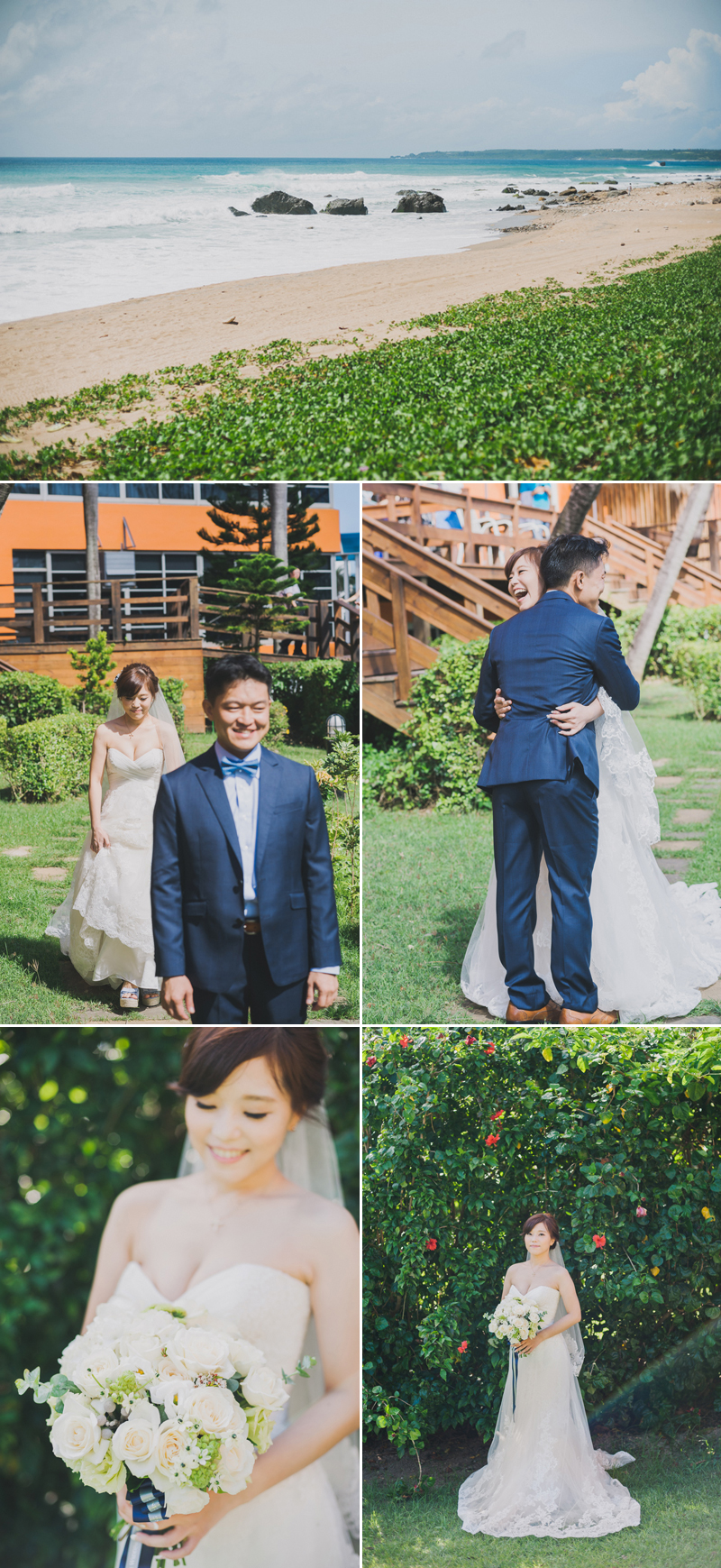 The Proposal
From the Groom, Hong Long: My original plan was to propose at the badminton court where we first met, but things didn't work out as planned so I had to go for plan B by asking my friends in the Navy School to help. My friends and I decorated a special room in our school, and asked Chien-Yun and her colleagues to come over. When she stepped into the room and saw all the balloons and candles, and a video filled with our memories, she was so shocked! Her colleagues started giving her roses one by one, and finally, I proposed! And yes, she agreed to be my roommate for life!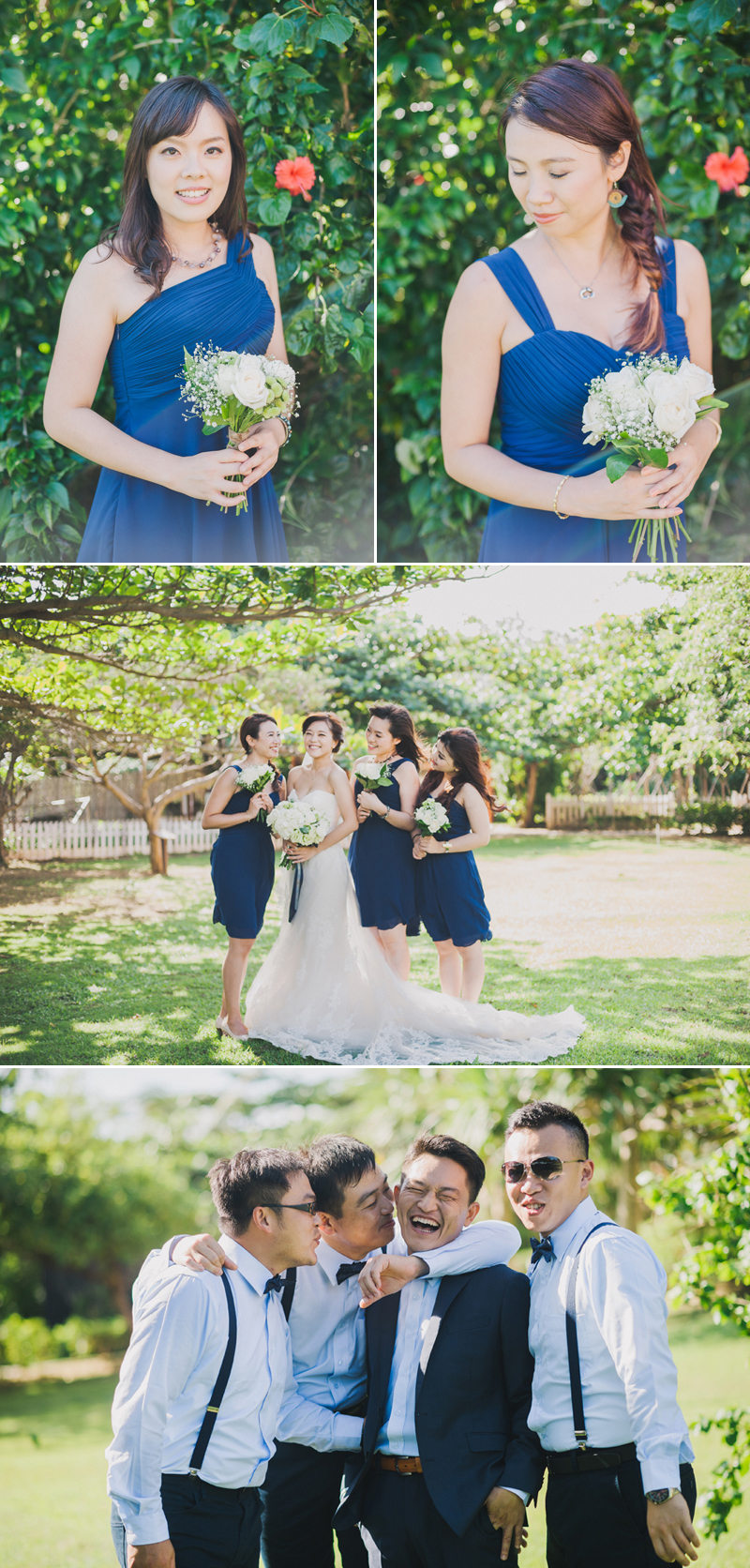 Wedding Planning and Design
From the couple, Chien-Yun & Hong Long: During the wedding panning process, it's easy to get stuck on making every detail perfect and trying to meet the reality. One thing we had in common was that we both wanted each other to have a wedding we dreamed of. We decided to follow our hearts and have a beach wedding regardless of the unpredictable weather. It's the perfect location that would truly illustrate who we are inside and out.
Our vision for the wedding was nautical chic, with blue and white as our theme colors. We carried out this theme everywhere from the invitation, wedding gown, decoration, music, bouquet, to the saber arch.
We kept the reception simple and laid-back, with jazz music and a buffet style meal. We wanted it to be casual and intimate, so we could spend quality time with our family and friends.
There are many little details we loved about our wedding. For example, the paddle guest book was a lovely idea, and we were hoping that the words "paddling through life" could be the spirit of our marriage.

Most Memorable Moments
Chien-Yun & Hong Long: According to the weather forecast, it was going to rain on our wedding day. We were very worried about not being able to have our wedding the way we planned. In the morning of the wedding day, the ground was still wet. Our hearts will filled with anxiety, until we saw a verse from the Bible, reminding us to "take delight in the Lord, and He will give you the desires of your heart. Commit your way to the Lord, trust in Him and He will do this" (Psalm 37:4-5).
After the Bride's makeup was done and put on her wedding gown, the sun miraculously came out! We had a beautiful ceremony on the beach! It was like a dream-come-true! We were in tears when our church friends sang gospel songs to bless us at the beginning and end of the ceremony. Those are moments we will forever cherish.

Thoughts and Advice for Other Couples
Chien-Yun & Hong Long: Many say that "all you've got to do is decide to go, and the hardest part is over!" It's almost impossible to make a perfect decision that satisfies every need and desire, but sometimes it's all part of learning to let go. We were lucky to have awesome friends and great vendors to help us make this wedding possible. Our families also gave us the freedom to plan our wedding the way we wanted.
We did not hire a wedding planner, but our photographer, Mark, really helped us throughout the entire planning process. From shooting our engagement session, picking the gowns, planning the wedding day schedule, and finally photographing our wedding day, he was like a close friend and mentor.
The wedding day will be over faster than you know, but in the coming years we will embark on new journeys. What really matters is the love and promises we share. The wedding planning process and this first "project" we did together will be our precious memory, and it will forever remind us of overcoming obstacles together and making things possible with pure love.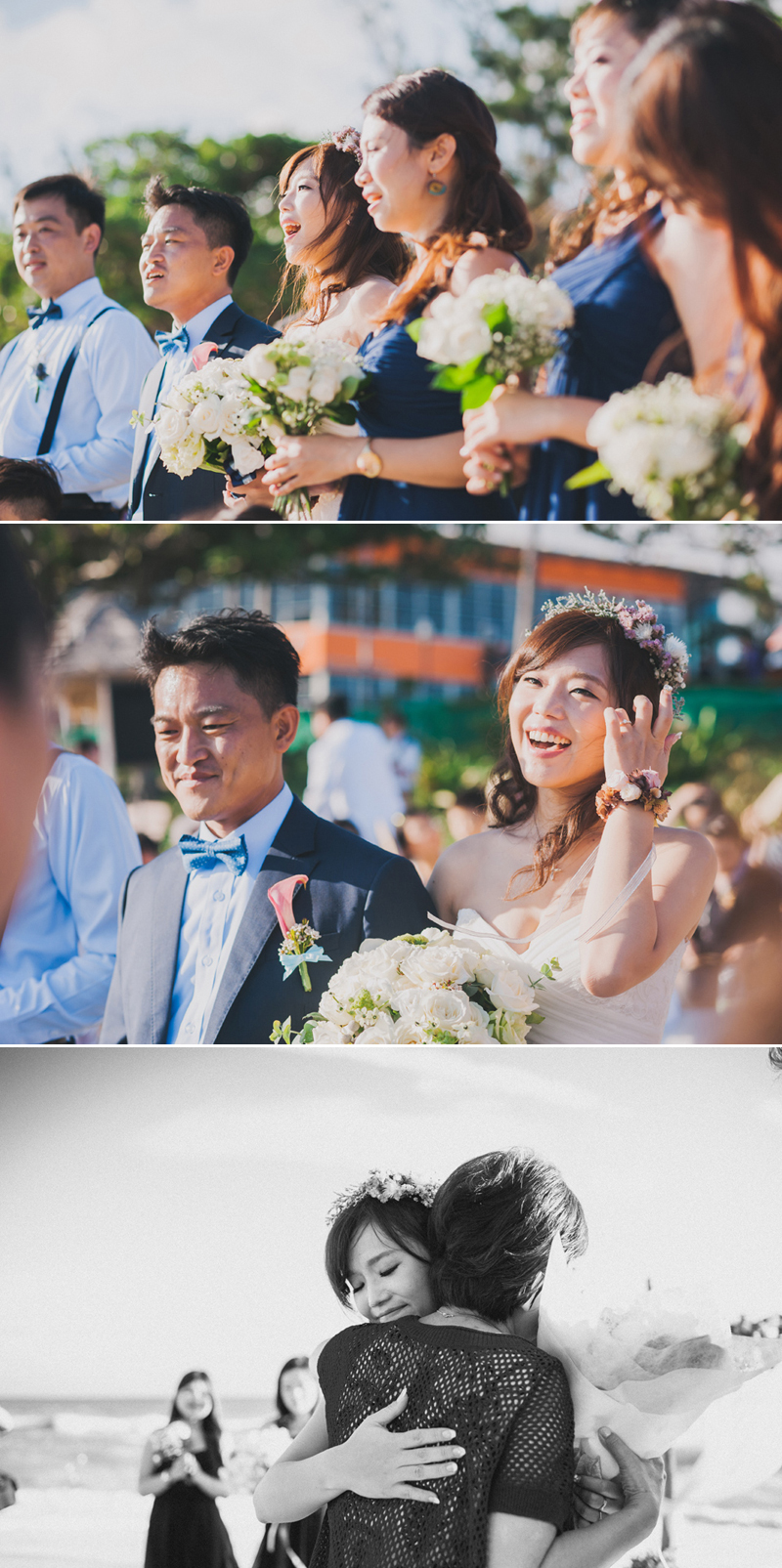 Thoughts from the Photographer
Mark Hong of The Stage: A beautiful sunny day in Kenting, that's where the entire day's beauty unfolded. The Bride was worried about the weather, but everything turned out better than we could ever ask for.
In Asia, it's rare for couples to have a First Look on the wedding day. The moment when Hong Long saw his Bride in her wedding dress for the very first time was truly remarkable.
We also managed to shoot a mini couple photo session where Chien-Yun & Hong Long spent some quality time together walking on the beach.
Wind-swept, sun-kissed beauty was all we could think about during the ceremony. I was touched to see the Bride in tears of joy when their church friends sang gospel songs for them to bless this lovely couple.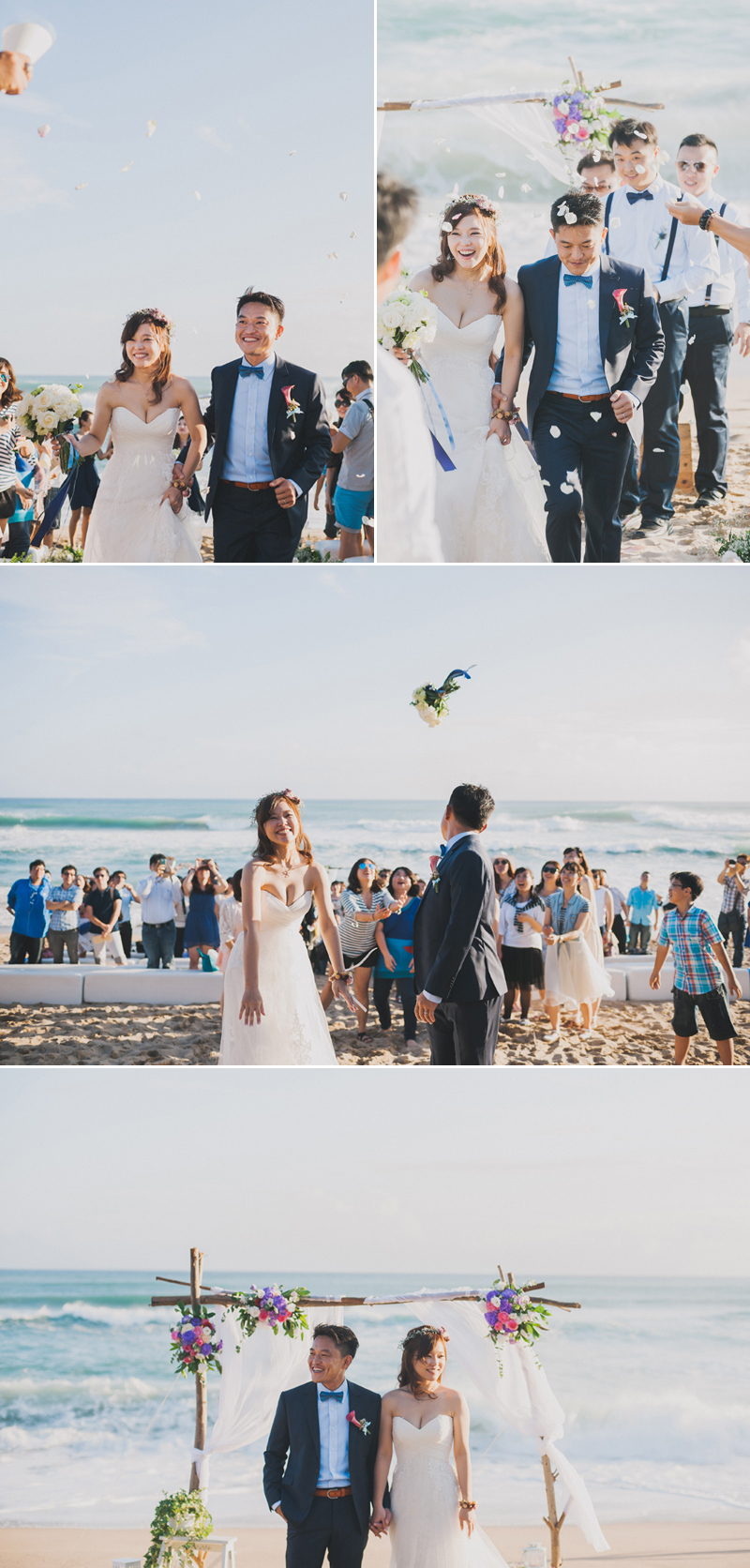 Getting to Know the Couple From a Photographer's Point of View
Mark Hong of The Stage: I truly believe that getting to know the couple before the wedding day is an important part of my job. Other than shooting photos, a wedding photographer needs to understand the schedule and give professional advice when needed. Sometimes I feel like a stylist and planner. No matter what I do, the key is to make my clients feel secured and comfortable.
Chien-Yun is a very neat and thoughtful bride. She designed the wedding based on a nautical theme because the Groom is a member of the Navy. She also invited all the guests to wear blue to participate in the theme. When Chien-Yun saw me in blue too she was surprised. I wanted to become part of their celebration, and not just a vendor, this is something we honor in our team.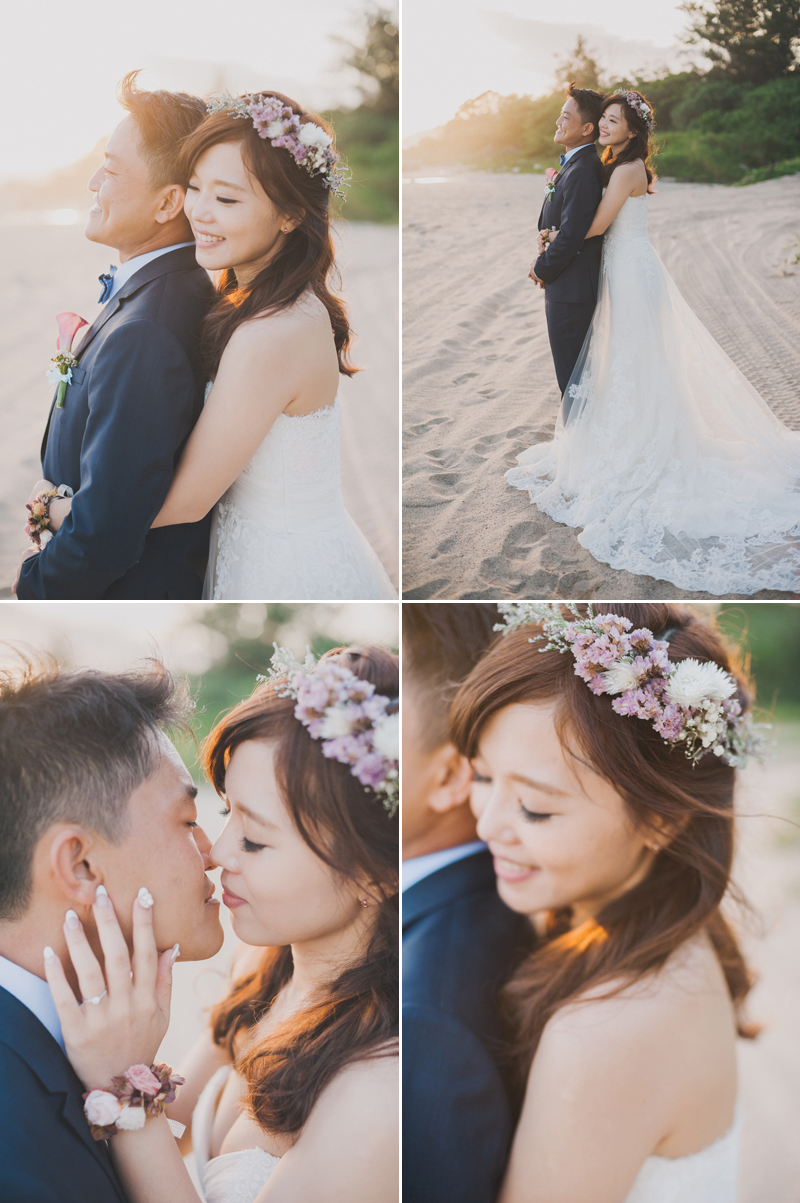 About the Photographer
Mark Hong is a wedding photographer from The Stage with a love for arts, music, and reading. Inspired by faith, Mark's desire is to freeze candid moments in an artistic, pure, and free-spirited way.
"People" is always his focus, combined with emotions, scenery, nature, and life, Mark creates warm, fine art imagery that is authentic and passionate. Mark's love for travel and adventure motivate him to keep searching for the beauty of relationships worldwide. He has visited India, New Zealand, Italy, United States, and France, and is available worldwide to create images you will cherish forever.

Find the Photographer – The Stage:

Other Vendors:

Venue: Chateau Beach Resort   |   Makeup and Hair: Dori Makeup & Stylist Studio   |   Decoration & Bouquet: EW Déco by Eye Wedding   |   Co-photographer: Haoward Chen   |   Assistant: Anakin Hong