We believe that true love is contagious.  Have you ever seen couples so deeply in love that just by looking at their natural interaction puts a sweet smile on your face?   Christie & Dan's relationship is a perfect example of such true, joyful love.  We couldn't help but smiling at the computer screen when we first saw Christie & Dan's wedding photos on talented photographer, Jamie Delaine's blog.  After we read through their love story shared by Jamie, our hearts melted.
Christie & Dan's relationship is a beautiful testimony of love.  We adore all the creative designs found in this wedding, but how much they treasure each other and how God has miraculously put them together to overcome all the challenges are what touched us the most.
The wedding photos captured by Jamie Delaine are absolutely stunning.  She managed to catch the most natural emotions found on this beautiful wedding day, something we see as one of the most precious purposes of wedding journalism photography.  Please join us as Jamie shares this wonderful wedding story.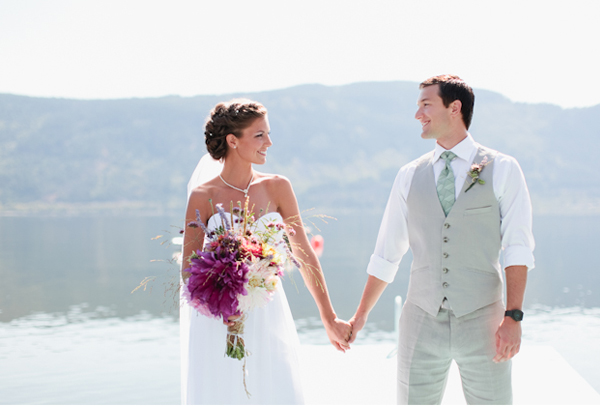 How the story began
Jamie: Christie and I met at Trinity Western University back in the fall of 2008.  Christie and her roommate Rebecca love photography as well, so we connected right away. Christie moved to Langley from Haiti, where her family has lived for almost ten years now as missionaries.
In her first year of university, Christie met a boy named Dan.  The two of them hung out on campus: he'd play the piano for her in the music building, and they'd spend evenings talking. But it wasn't the right timing yet; they were just friends.
Summer had almost arrived and a four-month period of long distance wasn't going to be a great start to their dating relationship, so they waited. In October, they decided to make the jump!
During Dan's vows, he called it "love at first sight", for sure. It was not the same for Christie. She was slightly interested, but cautious. She always thought she'd "know" when she met the right guy — but she grew in love over the months Dan carefully pursued her.
The long distance challenge
Jamie: Time passed and soon, they had been a couple for two years.  Christie and Dan knew they wanted to be together, forever, but Dan was graduating two years before Christie, and needed to go home to Alberta for a job, and Christie needed to stay in Langley to finish her Nursing Degree.  They've managed to handle the long distances apart with visits every 6-8 weeks. On the last visit over the Christmas break, Christie went to see Dan's family in Alberta, and left with a ring.
Dan started job-hunting and interviewing like crazy to find a job that would allow him to move back to BC as soon as possible. It was a total answer to prayer when Dan managed to find the perfect job in Langley, meaning Christie and Dan could be married before Christie's last year of school.
It's such a blessing to see couples truly seeking God's heart for their dating relationships and surrounding themselves with friends who support them. So rare, it seems.

Family Love
Jamie: I love the "people" part of a wedding day. That part never gets old to me. I feel like an honorary family member on most wedding days. It was even more special being that Christie is a great friend of mine and that her family doesn't live here. It was a blessing to get to know her parents, Rod and Debbie, and all of her siblings. They are truly an incredible family. I was so inspired and refreshed by their heart for Jesus and their heart for the work God wants to do all over the world — but specifically in Haiti.
The wedding day was incredible. I was staying two nights at the same home as Christie, her family and all the bridesmaids. It is the gorgeous lake house of a family friend — and Christie's uncle has another property a few doors down where all the guys stayed. I loved being able to photograph slowly throughout the morning.
At one point I sat on the floor while Rebecca, Christie's best friend and maid of honour, did her hair and makeup, and we just chatted. We laughed and marvelled that the day was finally here. When it was time to get Christie into her dress, she pulled it halfway up and her mom Deb entered the room. She promptly burst into joyful tears at the sight of her daughter in a gorgeous gown. Which of course, caused Christie to tear up and repeat aloud, "I'm fine. I am fine. I will not cry."
The First Look
Jamie: Christie and Dan's first look took place in the backyard of the home, underneath the arch where they would become man & wife in a few hours. Christie was nervous and bubbly, and Dan was anxious to see his bride. They saw, they hugged, they wanted to kiss but decided to leave that until the ceremony — so their "first kiss" would be the "first kiss" of that particular day. As we wandered down to the beach, to the side of the house and out to the front street Dan remarked, "We've waited 3 years for this!" And as they walked hand in hand, I couldn't help but marvel at how faithful the Lord is. And how good His plan is.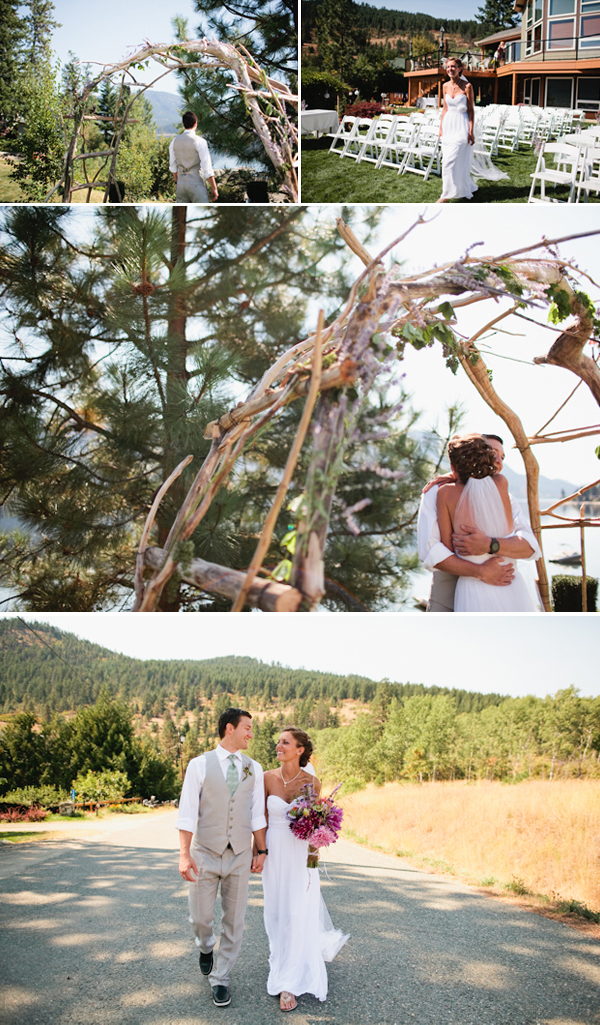 Let the music play
Jamie: Christie nailed it with the music choices. The ceremony took place at 3 o' clock, under the scorching hot afternoon sun. Before Christie walked her 6 bridesmaids, arm-in-arm with Dan's 5 groomsmen to the soundtrack of "I Will Wait for You" by Phil Wickham.
During the official registry signing, Dan's brother and best man, Ben, sang a duet with Christie's bridesmaid, Brianna. The song is by Jenny & Tyler and called "As Long As Our Hearts are Beating." Ben and Brianna have ridiculous voices. INCREDIBLE!  It was my favourite performance at a wedding, ever, and this song has been on repeat ever since Friday. Christie and Dan and their bridal party ran down the aisle (literally ran, well, danced and ran) to "White Dress" by Ben Rector. Another great choice.

Jamie: Christie and Dan chose to do a First Look even though they had 2 hours in between their ceremony and reception because they wanted to spend time with all of their guests. Everyone traveled at least 4 hours to be with them on their wedding day and they wanted to honour that.

Lovely wedding designs
Jamie: Christie had decorated the backyard and the beach so well. Personal photos, hand-painted signs everywhere, refreshments and drinks available, lawn games and boat rides to enjoy the afternoon. The reception was held at Quaaout Lodge a few blocks down the road and once again, Christie did an incredible job with details. Each table was named after a place that meant a lot to the couple: British Columbia, where they met, Canada, where they were both, Haiti, where Christie lived for years, Lithuania, where Christie's family lived for a time, Alberta, where Dan is from, etc. And the florals have to be one of my favorite parts of the day. Christie's aunt Pam did an amazing job on everything.

About Jamie Delaine
I'm Jamie Delaine – a wedding photographer, writer, dreamer, big-picture thinker, bookworm and follower of Jesus. I love my life in beautiful Langley, BC, Canada.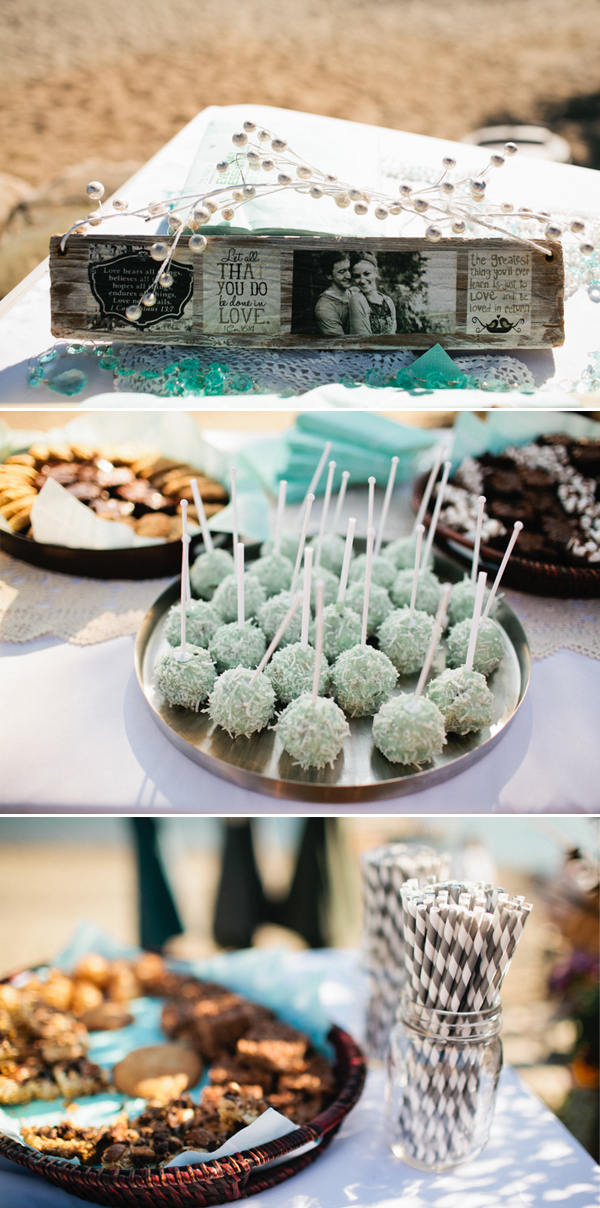 Reach the photographer:
Jamie Delaine's Website   |   Jamie Delaine's Facebook Page
Other wedding vendors:
Venue: Shuswap Lake   |   Reception: Quaaout Lodge   |   Flowers: Pam