If you haven't already considered a beautiful vacation to Italy, this romantic wedding captured by talented photographer Esben Zøllner Olesen is here to encourage you.  Maria & Søren's wedding is like a dream dripping in pretty, with breathtaking scenery and lovely details. The rich color contrast and romantic atmosphere at the Tuscan hills will show you the magic that Tuscany holds.  Join us as we share this intimate, rustic wedding filled with pure love and joy.
The love story
From the couple (Maria & Søren): At age 17, we were both living on school campus in Denmark. We knew each other, but were dating different people, and didn't really have our eyes open for each other. 9 years later, we met again at a student reunion party, and that's where our love story took off. We have been together ever since. We love our life here in Copenhagen with our adorable little cat.
3.5 years later, one night Maria went out for a celebration with friends, and Søren was planning for the proposal at home.  He put the engagement ring around our cat's neck, and as Maria entered the room, he said "look what the cat's got for you – will you marry me?", and she said "yes".

Planning priorities
Maria & Søren: We wanted our wedding to be both romantic and unique, and to reflect who we are. We also wanted to make sure that all our guests (many had travelled all the way from Denmark) would have a good time.
The perfect venue
Maria & Søren: With its beautiful location in the mountains, vine field all around the farm, and plenty of land for guests to enjoy, our foreign venue set the perfect scene for an above-average experience. The reception was set on the piazza with open sky above, which set the perfect atmosphere and it seemed like the party would never end.

Wedding design general information
Wedding theme: Romantic Rustic
Number of guests: 75
Budget: approximately 30,000 USD
Favourite wedding detail: the songs played during our ceremony and our beautiful venue
Best wedding moment
From the bride (Maria): After my speech to Søren, I could just see in his eyes how touched and happy he was for the things I said.
From the groom (Søren): When Maria walked down the aisle! I was just so touched and had flash-backs of all the good things we experienced together, and what we walked through to get to this point of our lives.

Unique personal touch
Maria & Søren: We love how this was really "our wedding". We planned it all and organized everything from finding the location, picking up the dress in Geneva, and choosing the right flowers and decoration. The strange (but meaningful) words we put on our rings – Wessel & Bambi are our secret nicknames for each other.
Advice for other couples planning their day
Maria & Søren: We planned the wedding completely by ourselves, and time just flew by!  We had our ups and downs during the process, but it ended up with a wedding just perfect for us!  If anybody else out there is planning a wedding abroad, we would recommend that you make it clear to yourself, that this will require a lot of preparation and planning! If you are not going to put in the hours, go for a wedding planner!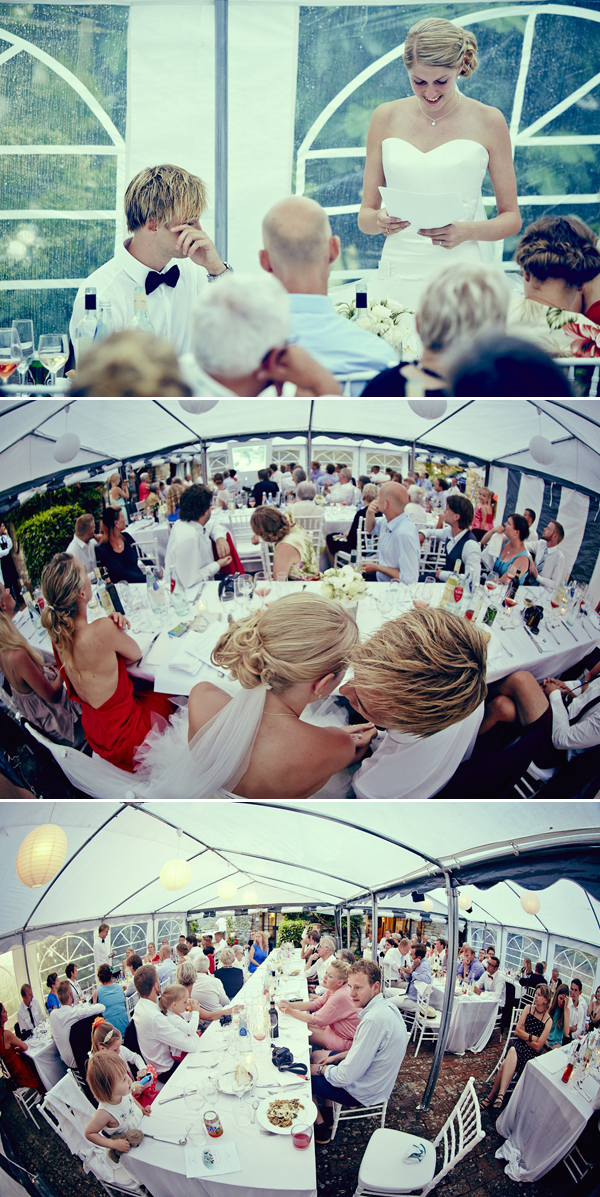 Thoughts from the photographer
Esben Zøllner Olesen: Best location I ever had for shooting a wedding! I normally work out of Denmark with no mountians, and the amazing mountain view of Tuscany made a huge difference (and differences always make good pictures).
Surprisingly, the weather became a big challenge for us.  It was really hot (about 40C), and I almost passed out during the portrait session.  Just after the guests were seated, the temperature got even higher!  Although the schedule was delayed a little bit due to suit changes and the couple's close family trying to make themselves "waterproof" from the pouring rain, I'm glad it all turned out well – challenging work always leads to awesome pictures.
About the photographer
Esben Zøllner Olesen: I'm a 28year-old photographer based in Copenhagen. I shot my first wedding back in 2007, and became full time at the age of 24 in 2010.
I like to include the landscape and environmental surroundings in my photos. For this reason I use a lot more wide-angle lenses than most wedding photographers.  Instead of just blurring out the background with telephoto lens, I want my photos to show multiple layers (front, middle, background). My post-production approach is only to do the basic adjustments and never spend hours in Photoshop, simply because I want my photos to look real.
Besides weddings, I also do a lot of work with action sports and adventure shoots for clients like the Danish Army and Red Bull.  My philosophy and approach to images is at the core of everything I do.
A fun fact about the photographer
Esben Zøllner Olesen: Back in 2012, I was the photographer of a beautiful wedding here in Copenhagen. One of the most fun weddings I ever shot, and must admit that I didn't keep my usual professional distance to the couples' assistant during the shoot, and she has been my girlfriend ever since.

Find the photographer:

Esben Zøllner Olesen Website   |   Facebook

Other vendor information:

Venue: Antico Borgo di Sugame   |   Catering: Enoteca Fuori Piazza   |   Flowers: Marie Lou Piante e Fiori   |   Dress: Cymbeline