Infused from beginning to end with a romantic blue-hued color palette, Angela & Albert's wedding proves that the right design will remain timeless forever. The calming, airy blue combined with an elegant touch of nude, blush, and grey, all fit perfectly with their magical outdoor ceremony venue.  The Bride translated her vision into a beautiful affair through her love of fine art and amazing organization skills. Talented photographer Mark Hong of The Stage flawlessly captured the photos that are about to unfold – enjoy!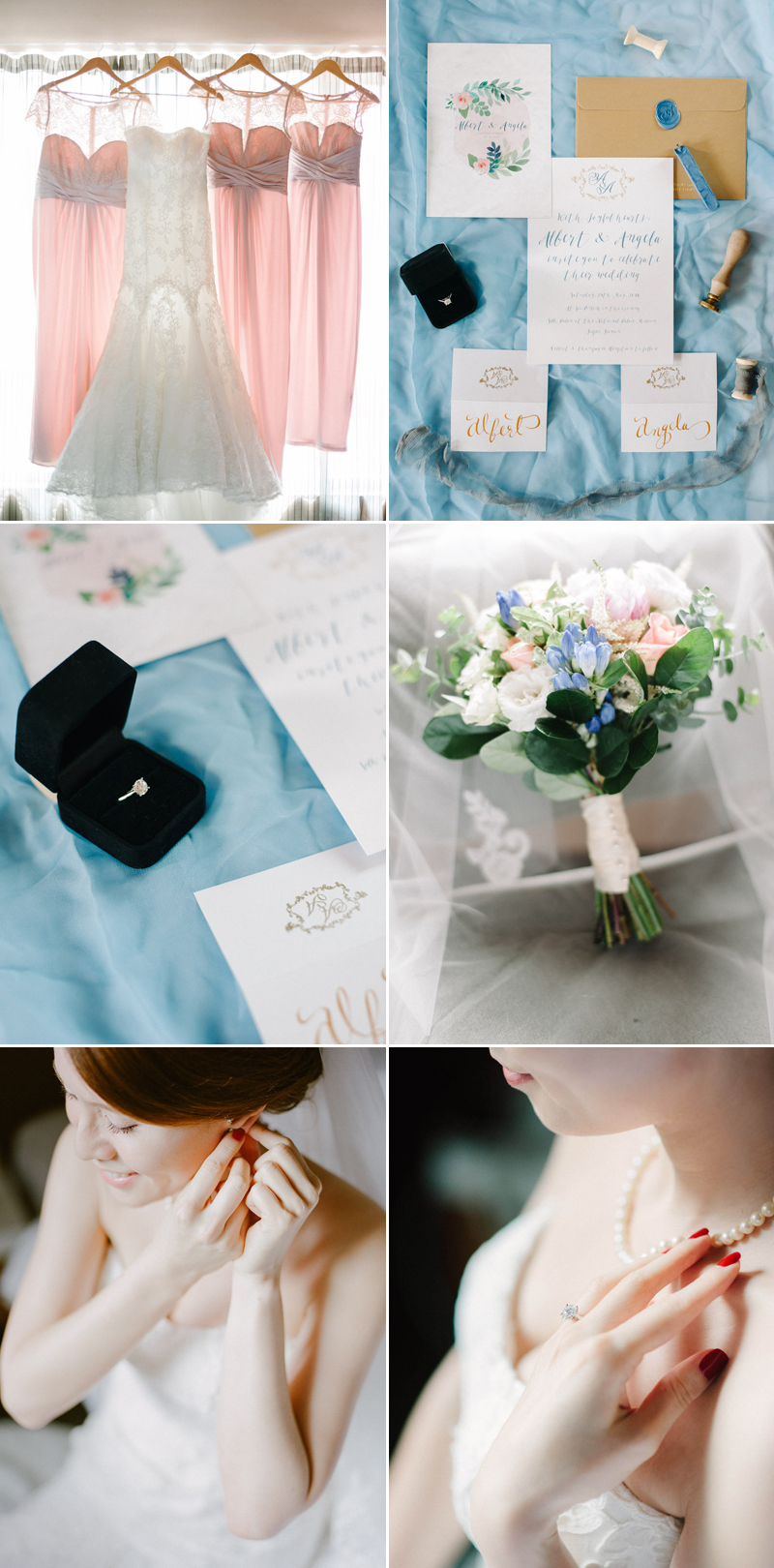 The Love Story
From the Bride, Angela: Albert and I both studied in the States, but met only after we both returned to our home town in Taiwan. We were introduced by a common friend, and soon discovered that our common interests were eating and watching movies. As a result, we both gained some weight after we started dating! After three years of getting to know each other and learning to love more each day, we decided to start our next new journey together.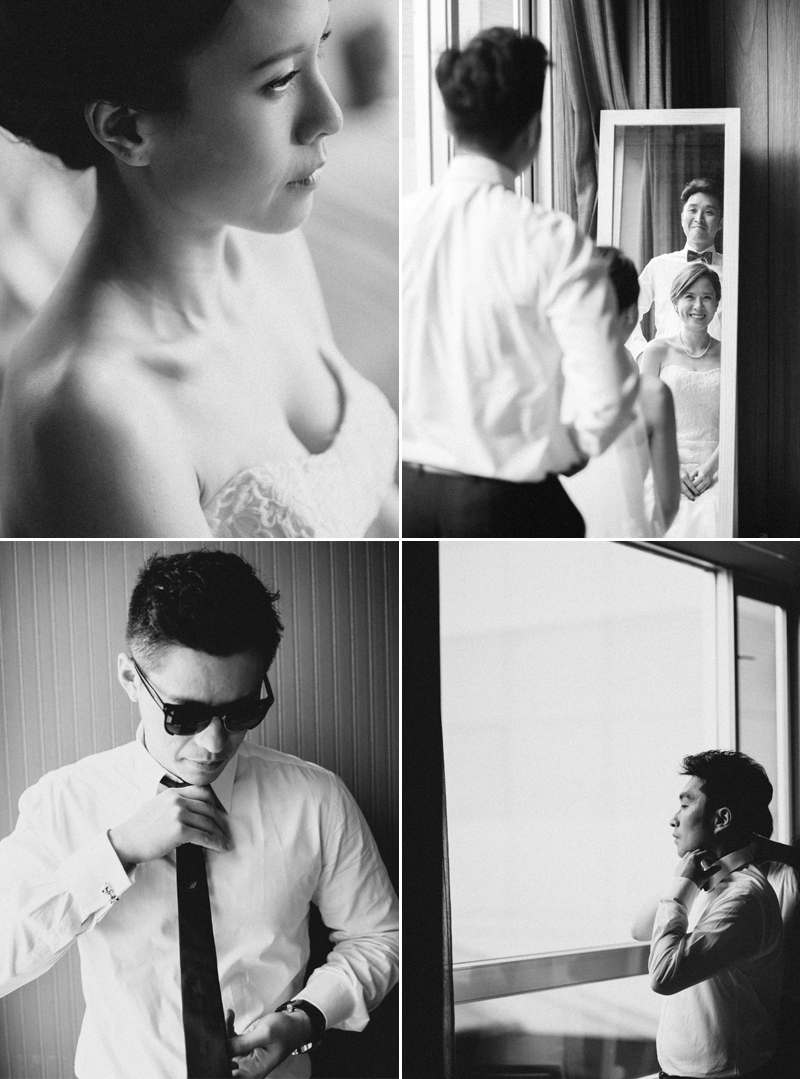 Wedding Theme and Details
Theme: We picked dusty blue as our main theme color, and designed our stationery and decoration based on this theme to keep everything consistent.
Number of guests: around 250
Favorite design detail: outdoor ceremony decoration, cocktail table design provided by our friends, and creative desserts such as cupcakes and candy pops that incoporated our own thoughts and ideas!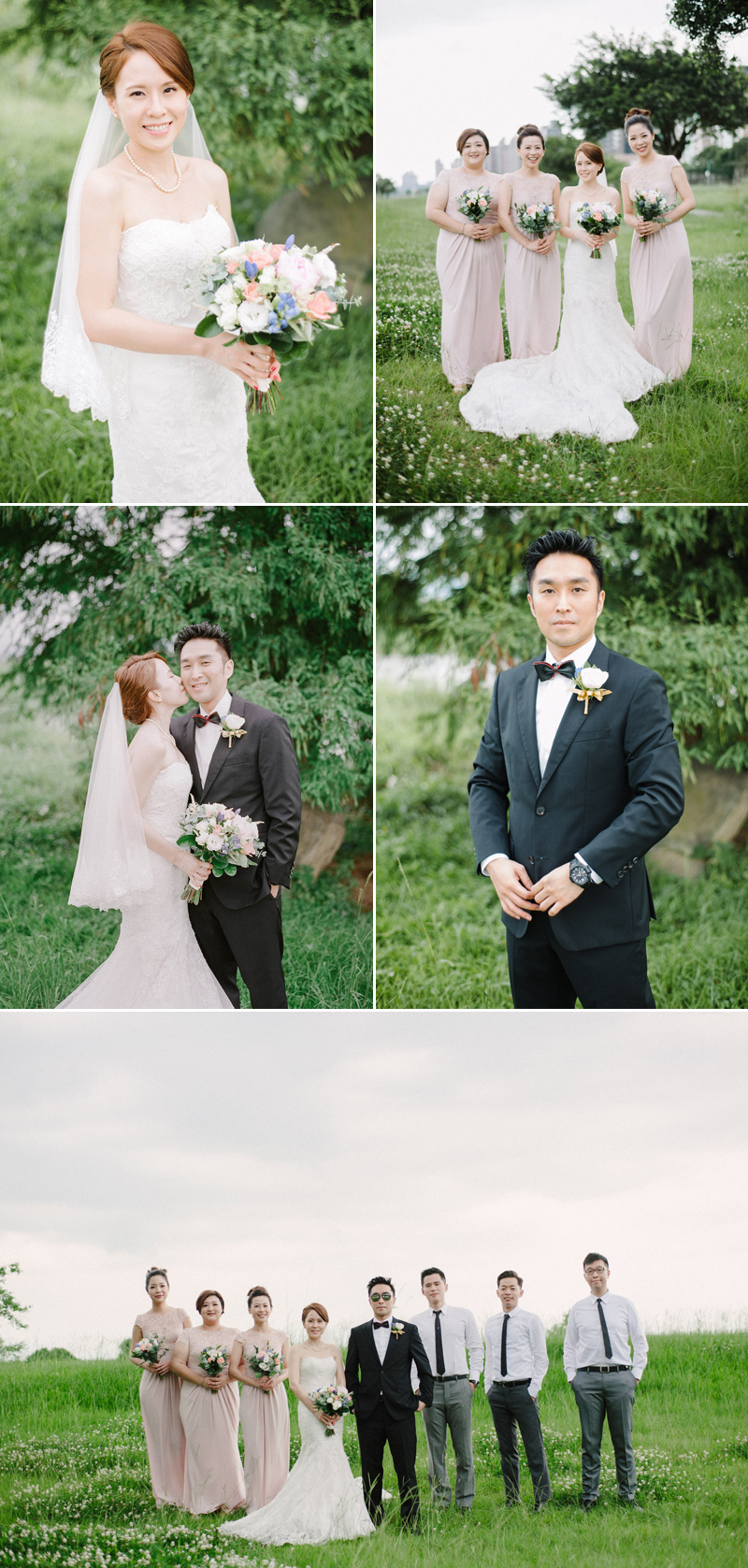 Wedding Apparel
From the Bride, Angela: I was looking for a classic wedding dress that's simple and elegant, with delicate lace and tulle detailing, and found my dream dress at Just Hsu Wedding. For my bridesmaids, I ordered maxi gowns online from ASOS. My girls and I have purchased dresses from ASOS before, so we are familiar with their sizing and quality. We chose nude dresses to add a touch of effortless elegance to our wedding theme color. The color looks very nice on their skin tones.
Albert found his suit from Hugo Boss, along with a stylish leather bow tie I gave him on our anniversary. The groomsmen wore white dress shirts, grey pants, and skinny black ties to present a clean, simple look that matches the rest of the bridal party.

Wedding Planning Experience & Thoughts
Angela: In the beginning I had way too many ideas and wanted everything! After those wild thoughts drove myself crazy, I decided to better organize our planning process by dividing things up into different categories, including the wedding dress, hair and makeup, bridesmaid dresses, groom and groomsmen outfits, decoration and flowers, invitation design, etc. I picked out my favorite styles and looks for each of these categories, then communicated our thoughts with different vendors, and worked within the budgets. It's amazing to see our vision come alive on the wedding day!
I love all things pretty and have a passion in fine art, so I planned my own wedding and communicated directly with all vendors. I feel very blessed that all our vendors had great artistic senses and professional skills to make our dream come true!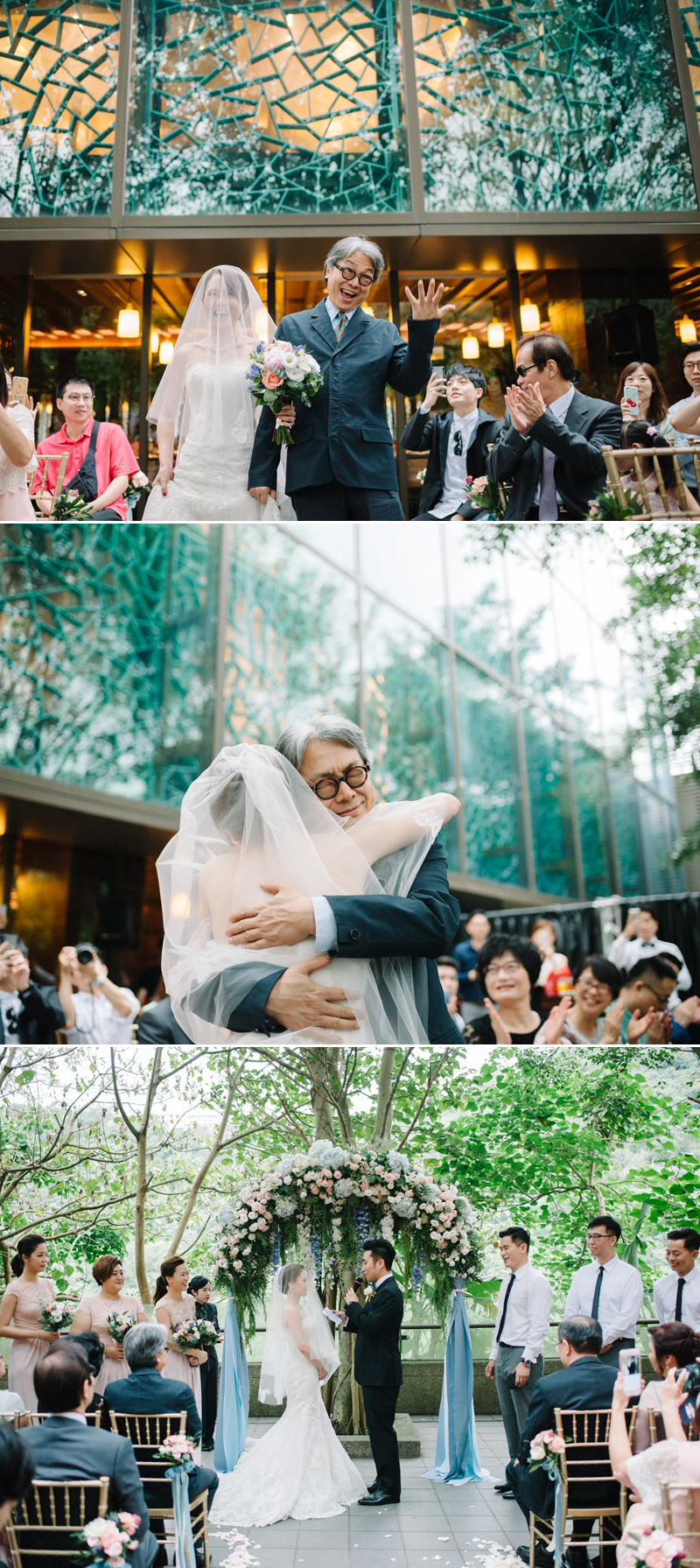 Tips and Advice For Others
Angela: Brides can start from collecting inspirational photos and categorizing your inspirations, then communicate with your other half to achieve mutual understanding. Based on the style you've agreed on as a couple, search for professional vendors who you believe can match your style. Share the inspirational photos you've organized with different vendors to ensure they share the same vision.
I think the overall style of your wedding is very important. Pick a theme you both like or a color you can base all designs on. For example, we first picked our color palette and designed everything around the chosen palette. Keeping the color and theme consistent is the best way to present an unique well-organized style that's truly yours.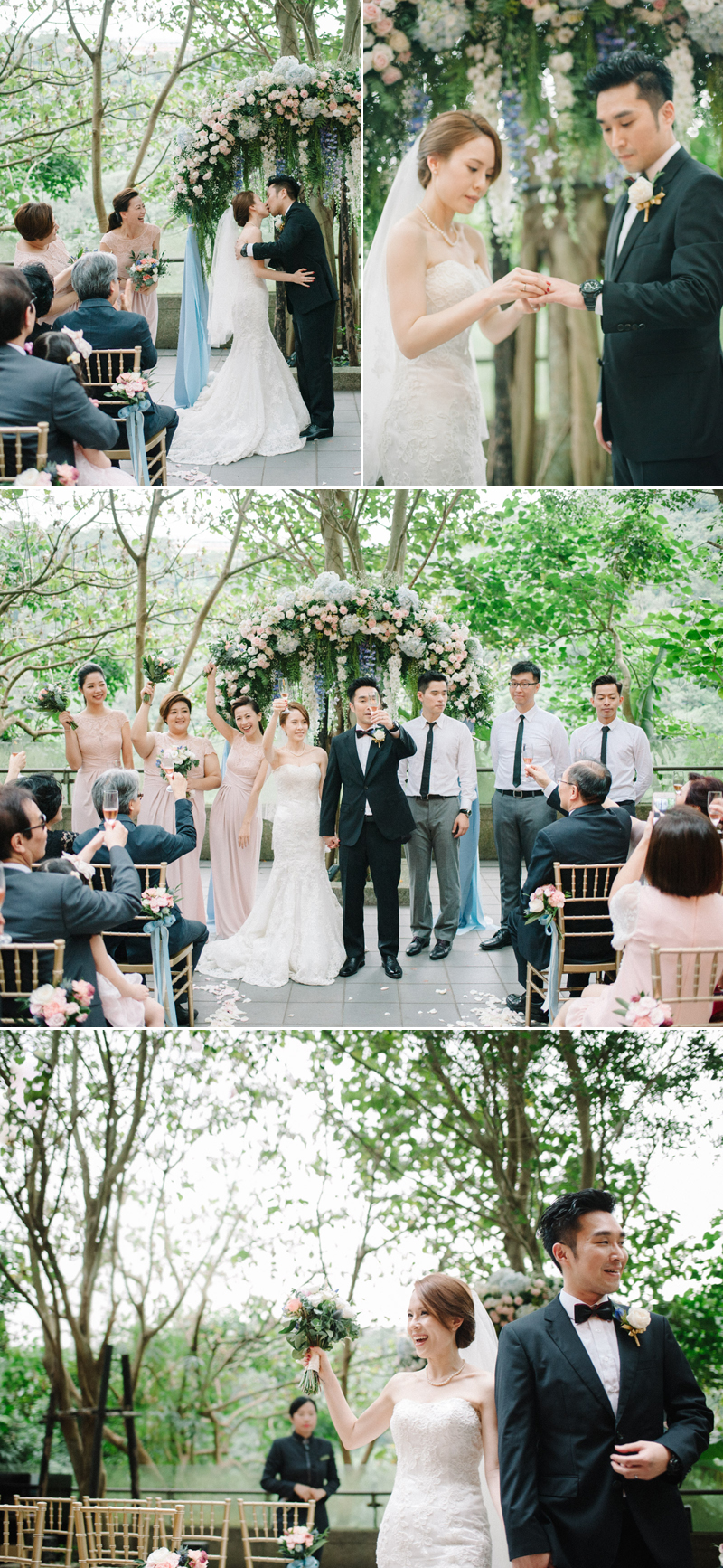 Thoughts From The Photographer
Mark Hong of The Stage: Angela had a very clear vision of her dream wedding style since the first time we met, and she was able to illustrate her desires well. We had similar artistic senses and taste in style, which made our communication process very smooth.
Angela & Albert kindly shared every wedding detail with me during their planning process. Although Angela often jokingly called herself a control freak, she really had an open heart to accept my opinions and suggestions. I'm thankful that the couple gave me pure trust, and we actually became good friends. I knew I wasn't just attending their wedding as a photographer, but also as a trusted friend.
On the wedding day, we had an hour to capture portraits for the Bride & Groom, as well as their lovely bridal party. Everyone had a relaxed and fun time filled with infectious joy and precious natural interaction.
About the Photographer
Mark Hong is a wedding photographer from The Stage with a love for arts, music, and reading. Inspired by faith, Mark's desire is to freeze candid moments in an artistic, pure, and free-spirited way. "People" is always his focus, combined with emotions, scenery, nature, and life, Mark creates warm fine art imagery that is authentic and passionate. Mark's love for travel and adventure motivates him to keep searching for the beauty found in relationships worldwide. He has visited India, New Zealand, Italy, United States, and France, and is available worldwide to create images you will cherish forever.

Find the photographer – Mark Hong of The Stage:

Website   |   Facebook   |   E-mail   |   Tel: +886 2 2599 6489

Other Vendors Involved:

Venue: Silks Palace  |   2nd Photographer: Haoward Chen   |   Makeup & Hair: Issa Styling   |   Wedding Dress: Just Hsu Wedding   |   Bridesmaid Dresses: ASOS   |   Groom's Suit: HUGO BOSS   |   Decoration and Floral: Where's Flower + Alice Wang Event Decor   |   Cocktail Desserts: L.I.A Sweets