Personality packed and filled with love, Angela & Eric's stunning engagement session captured by Kunioo Photo & Cinema is like no other.  It doesn't get any more romantic than a photo-filled backdrop showing the pure, let's-grow-old-together kind of love between the adorable couple.  Angela & Eric's story is a beautiful testimony of true love, showing that God's plans are always beyond our imagination, always faithful, and always full of blessings.  Join us as we share their story below along with the heartwarming images from Kunioo Photo & Cinema.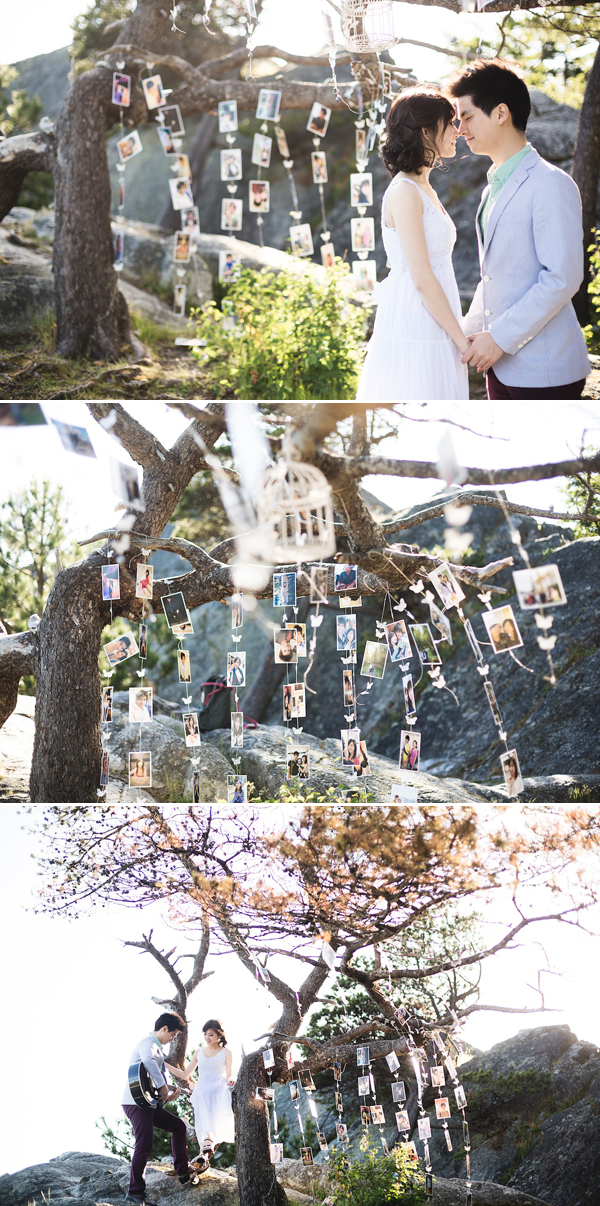 The love story
Eric and Angela first met each other at Crescent Park in year 2000 on this bright, yet windy day near the end of August. Eric was having his routine softball practice when Angela and her family decided to check out this nearby park after just landing at Vancouver a couple days ago. Angela noticed Eric more than the others. For one, Angela has always liked the name "Eric", and this Eric has a twin brother that looked almost exactly like him, which she thought was really cool. Most importantly, it was the rare combination of Eric's humble character and handsome appearance that attracted Angela. These two traits are usually not found together and this definitely made a strong impression for Angela.
One day in 2002, Eric told Angela he liked her on msn and they both thought that was the beginning of their happily ever after. But challenges and misunderstandings arose faster than they were able to handle. Eric and Angela were both hurt in only under a week and decided to part ways since they thought it was the best way to solve the problem.
Summer of 2007 was when their love sprouted again. That summer, Eric's parents hosted a karaoke party with many parents and their children. Angela's family were invited as well. Eric got to know Angela all over again because she had been deliberately keeping her distance from Eric during the three years he had a girlfriend. They've both grown to be more mature. This was the day Eric got attracted to Angela again and wanted to find out more about her.
Eric frequently made visits to UBC and either brought dinner for Angela or asked to take her out to dinner after her orchestra rehearsals. At first, Angela was confused and doubted what Eric was trying to do because she still remembers their past experience back in high school.
After five months of hard work, Angela finally accepted Eric and began dating in December 2007. Before they started dating, they promised each other that this time, they will not let go. This time, they will fix problems together, stay by each other's side, and never slip the line of "let's break up" during arguments or times of frustration.
Ever since that December, Eric and Angela held that promise to heart and supported each other in Christ's love through countless challenges and hardships. Five years have gone by and love never diminished but grew even stronger and deeper by day. And that promise has become a commitment of a lifetime.

Romantic proposal
On the evening of Feb 8th 2013, Eric decided to take their relationship to the next stage. Eric planned the sweetest and most heartwarming proposal for Angela. He decorated their new house with over 1000 photos of their memories from the day they started dating. In front of their family and friends, Eric told Angela their story all over again and asked for Angela's hand in marriage on one knee. To this, Angela nodded in tears and said yes!! It was a night full of love and blessings.
Eric and Angela have come a long way. They are truly blessed and thankful for everything they have now, and most importantly, they cherish every moment they have together. It's been almost thirteen years since they first met, and it was worth the wait.
Inspiration & ideas
Kunioo Photo & Cinema: Eric and Angela had contacted us to do an engagement session earlier this year. When we first visited them at their home, we were still able to see the flowing montage of photos that were used as part of Eric's marriage proposal.
Eric proposed to Angela with a thousand printed photos, taken from their relationship, placed on the walls of their new home. We could not help but to visualize a surreal setting, with memories floating and surrounding them as Eric proposed.
Their favorite quote is: "Where you go, I'll go, Where you stay, I'll stay. When you move, I'll move, I will follow you" (Chris Tomlin).
At Whytecliff Park, the string attaching all the photos represented the interconnected memories, and their love for "following" each other.

Thoughts from the photographer
Kunioo Photo & Cinema: With our concept, we really wanted the couple to relive the moment of the marriage proposal, but also wanted to incorporate different aspects of Angela and Eric's lives as well. It was a mix of fantasy and reality. Music and photography plays a large part in their lives. Thus, we decided to bring them to play piano at a performing arts theater and reuse the photos from the marriage proposal and take them to a romantic place high up, overlooking the sea.
About Kunioo Photo & Cinema
Every country has a unique culture,  passed down through the generations. Likewise, all couples have their stories – which need to be captured and retold, too.
Through your funny, heartfelt or romantic stories (perhaps your goofy personalities, or even your aspirations!), we aim to retell your stories to the world.
Kunioo focuses on delivering amazing wedding films and images to every couple, creating unforgettable experiences and creating lasting relationships along the way.
Your Story. Our Inspiration.

Find the photographer:

Kunioo Photo & Cinema Website   |   Facebook

Other vendors:

Makeup Artist: Elena Tsang