Creative bouquets have exploded across the DIY world and it's time to update ourselves with more inspiring ideas!  Today we've invited the green wedding experts from Green Bride Guide here on Praise to share with us some recent creative trends in non-traditional bouquets: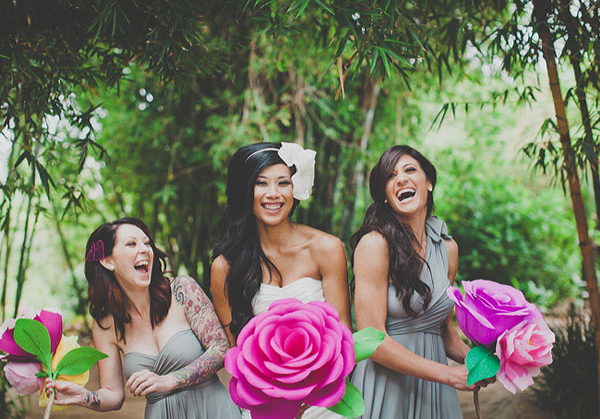 Credit: Studio Castillero
The bouquet is a bride's companion as she walks down the aisle, and it's her primary accessory. Bouquets are symbolic. They represent joyfulness, fertility, and unity. Once the bride is married, she tosses the bouquet to her bridesmaids and female friends, sharing her own good fortune with her loved ones. Traditionally, bouquets are comprised of living flowers and plants, but there are many creative variations on the wedding classic. Using non-living, recycled, and repurposed materials is also a great way to make an eco-statement. Here are some ideas.
Vintage Brooches


Credit: Amanda HeerFantasy Floral Designs
Brooches sparkle and shine—they're playful, glamorous, and visually interesting. Most thrift stores worth their salt have a costume jewelry collection. Your own relatives probably have some fun pieces lying around too. Incorporating borrowed brooches into your bouquet is a great way to honor your loved ones, and it's 100% eco-friendly to boot. Brooches are also easy to attach to a bouquet since most have built-in pins or metal loops, perfect for wire fasteners.

Credit: Simply Bloom Photography
Feathers

Credit: Simply Bloom Wedding (left) / The Diamond Willow (right)
Feathers symbolize freedom and flight, grace and strength. They're organic objects, like flowers, so they biodegrade, but they're also exotic and alluring. They evoke old Hollywood's red carpets—elegant beauty queens relaxing on the chaise lounge. They are also down-to-Earth and sustainable.
Buttons

Credit: Beau Buttons
My grandmother collected buttons and I wish I'd thought to use them for my bouquet. She had huge bags full of them: old ceramic buttons with beautiful hand-painted detail; heavy, red Bakelite buttons; and buttons made from shining obsidian. If you're the DIY type, start collecting early since it takes quite a few buttons to make a bouquet. If you'd rather buy one ready-made, check out Etsy seller Angela's Artistic.

Credit: Eliza Claire
Seashells

Credits: Martha Stewart Weddings (left) / Savvy Deets Bridal (right)
Seashells are another natural and sustainable material, provided you collect them from an approved location. Some beaches limit the number of shells an individual can collect and most prohibit the collecting of shells that contain a live organism. Make sure you follow local regulations to avoid damaging a delicate ecosystem. Once you find an approved beach, don't limit yourself to shells of a particular size or shape. You can create a stunning bouquet from a hodgepodge of different shapes and textures. Just make sure you thoroughly wash your shells before using them for your bouquet to remove any potentially malodorous debris.

Credit: HilaryMiles
Special thanks to Green Bride Guide for sharing these creative ideas with us today. Be sure to check out their website for some professional "green tips" to make your wedding environmentally friendly!