As much as we love spring weddings with cute "Easter" decorations, Easter is not really about bunnies and colorful eggs. In this season of rebirth, sacrifice, and love, we have prepared a Christ-centered wedding to share with you today.
Shirlee & Tristan walked through a beautiful journey of love and faith.  Together in Christ, they've developed a strong relationship based on trust and respect. Photographed by Allen Fu Photography, this wedding is full of natural emotions. Through Allen's fresh and "organic" approach, we see the power of faith, pure love from two families, and the precious value Shirlee & Tristan have set on each other.  Please join us as this lovely couple shares their amazing story!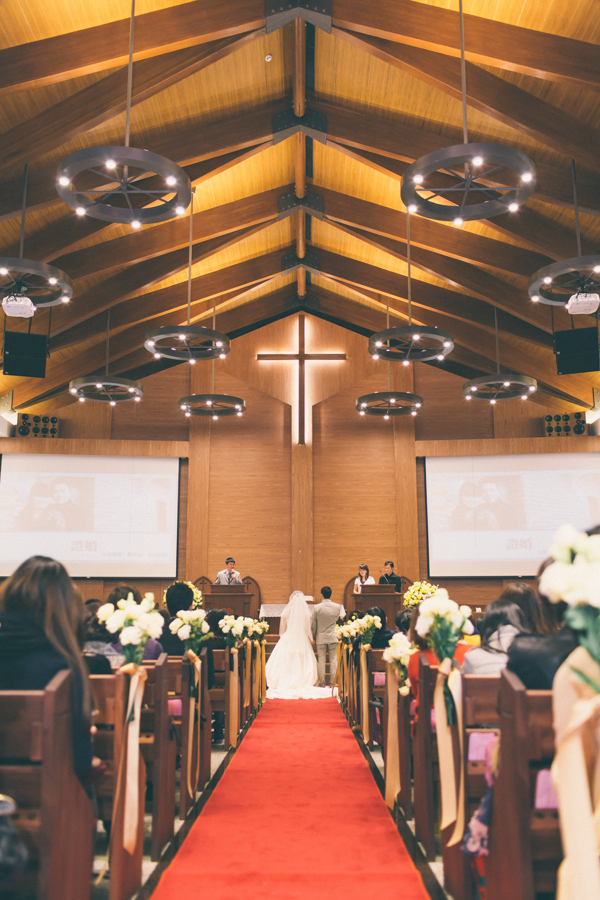 When Shirlee meets Tristan
Shirlee: We first met at church in 2007.  We both had passion in multimedia ministries, so we joined the same team to serve God and later became close friends.  We've both never considered marriage before we started dating due to our backgrounds and some personal thoughts.  In 2011, God changed our hearts miraculously; as a result, we fell in love naturally and started our relationship with marriage as our common goal.

Challenges in love

Shirlee: We've been close friends for a long time and we were both very independent.  When our relationship started, it was hard to adapt.  Instead of being so independent and self-centered, we had to learn to be considerate and put each other's needs before our own.  We both went through a lot of changes, but these changes were not forced, they all occured naturally for love.

A Dramatic Proposal
Shirlee: Tristan's proposal was very dramatic, because he actually rented a "proposal bus"!  The 235 line is a very meaningful bus to us, it's where we spent a lot of time together and traveling to meet each other, and that's the bus Tristan rented.  It's not easy to rent a bus in our city (Taipei, Taiwan), so Tristan submitted a formal rental proposal and went through many applications and procedures.
The bus' first stop was near my place.  Tristan asked my friends to wait at various stations on the way, so our bus could go through these stations to pick them up.   Many people were cheering and dancing on the road.  I was a little embarrassed and scared, because I couldn't believe all this was happening in the public (one of the busiest routes in our city), but at the same time, I was very touched to see his arrangement.  The bus stopped at Lawrays Steakhouse, which happens to be my dream place for proposal.
All the friends waved goodbye, and Tristan took me in for a romantic dinner.  When dinner was almost finished, he took out a box and got down on one knee – you'd probably think there must be a ring inside, but no, because I told him I'd like something more meaningful than a ring.  He took out a beautiful watch from the box, and asked me to marry him.  He then gave me an envelop with a floor plan diagram of his house inside.  My tears almost came down when I saw the floor plan.  All the details and notes on the diagram were so familiar, because they were things we've discussed before.  I said yes, knowing that together we will not only walk through life, but also build a home that belong to God.

Advice to Planning
Shirlee: Here are some of my personal thoughts to share with those of you planning:
1. Be happy!
It's crucial for the couple and their parents to be happy in the wedding planning process.  There are times when we all have different ideas, so it's important to be considerate and accept each others' thoughts.  It's best to have a decision maker, this will speed up all the decision-making procedures.
2. Set your budget
Have a budget set on each item (wedding dress, decoration, etc) will make things a lot easier and avoid unnecessary conflicts.

3. Do not regret
Your wedding is one of those once-in-a-life-time opportunities in life (I really hope everyone can enjoy a blessed, lasting marriage), if there is something you really care about and absolutely do not want to miss, as long as it's appropriate and your budget allows, go for it!
4. Goodbye perfectionism
Many people try to make their weddings "perfect" and flawless, but unless you have a lot of time, don't let your perfectionism ruin both your mood and the result.  Some of my friends decided to quit their jobs just so that they get enough time to plan for their weddings.  You can also hire a professional wedding planner to help you.  The decision is totally up to you, but make sure you keep yourself happy and don't get upset when things are not 100% perfect.

Thoughts from the photographer
Allen Fu: In Taiwan, you often see wedding guests walking out of a wedding reception without knowing much about the couple.  I love how Shirlee & Tristan's wedding broke this tradition.  They introduced themselves and shared their love story through a well-designed video, and really turned their wedding and relationship into a testimony for God.  Even non-Christian guests were able to understand that it was God who actually put this lovely couple together.
The atmosphere was filled with love.  We've got an emotional groom, a great pastor, loving friends, a praying grandmother, a wonderful band, and a photographer holding his tears behind the camera.
The groom's father performed a Taiwan song called "Cheers!" that totally got everyone in party mode.  His passion and joy were so real.  2 months after photographing this wedding, I can still remember all these amazing details. I really want to thank Shirlee and Tristan for giving me the opportunity to capture their story.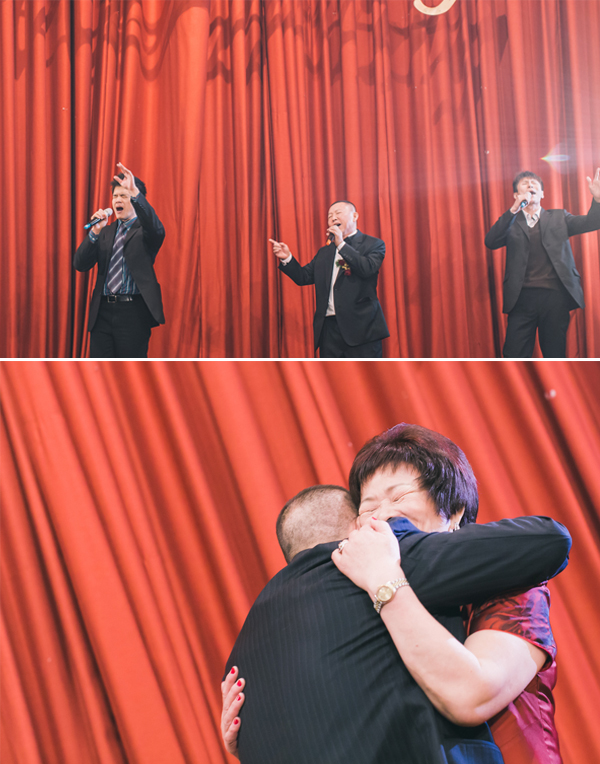 About Allen Fu Photography
Allen Fu: Born and raised in three different countries – Taiwan, New Zealand, and USA, I love to tell stories through my vision.  My style is natural, fresh, real, and organic, and my goal is to really "capture the moment" for all my clients.  I look forward to telling your stories.

Special thanks to Shirlee and Tristan for sharing your beautiful love story! If you were touched by this wedding, be sure to check out Allen Fu Photography's website and Facebook page for more wonderful work!
Wedding Vendors

Photographer: Allen Fu Photography   |   Ceremony Venue: TTT Church   |   Dress: LinLi Wedding   |   Reception Venue: T Garden