Many say that nature itself is the best wedding decoration you could possibly get, and this was the feeling we had when we first saw Stephanie & Jeff's wedding photos captured by talented photography duo Jakob and Cole of Nordica Photography.
Stephanie & Jeff's wedding embraces the tradition of their families and the simple, natural feeling they love.  The fact that Stephanie took her mother's dress from 33 years ago and made it into her own melts our hearts! This intimate wedding is full of natural hues, laughter, and lots of love.  Join us as we share Stephanie & Jeff's wedding below with some beautiful memories captured by Nordica Photography.
Thoughts from the bride
Stephanie: Our wedding was a reflection of who Jeff and I are.  We wanted something very simple – the venue was so beautiful we hardly needed anything!  We laughed, a lot.  The ceremony and reception were vey laid back.  We had 95 guests, which felt very intimate to us.  I was so happy to wear my Mom's dress.  We took it out of the box it had been in for 33 years and it was in perfect condition.  I had Patty Nayel of Pure Magnolia take it completely apart and she created the inside of a dress to fit me and stitched 100% of my Mom's on the outside.  It was beautiful, she did an amazing job!  When we started planning, the most important things to us, besides the guests, were the photography, the food, and the venue.  Never in my wildest dreams would I have thought I could have it all in one place, but everything came together!  The whole day was a dream.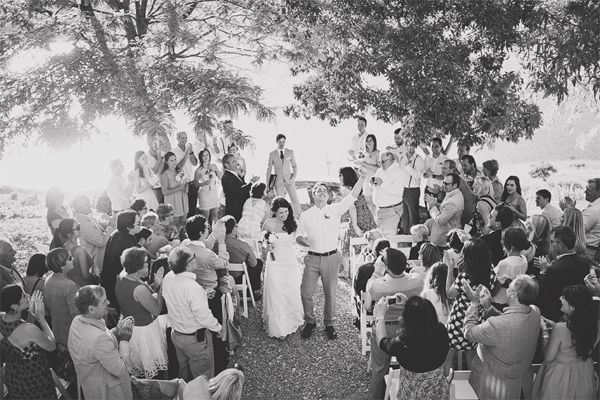 Thoughts from the photographers
Nordica Photography: This wedding was exactly what we hope for with all weddings: Totally natural, at a beautiful location, with a couple who completely trusts us and our style. What we'll remember about the wedding specifically is what an incredible group of people were there (from the family to the bridesmaids and groomsmen). There was a ton of emotion, and something seemed to be constantly happening throughout the day. Add on to that, the venue was incredible and it was a great experience.


About Nordica Photography
Our names are Cole and Jakob, and we started Nordica Photography together in 2009. We are based out of Stockholm, Sweden and Vancouver, Canada, and we primarily photograph destination weddings. You can learn more about our style and approach here.

The Photographers' Information
Nordica Photography Website   |   Facebook Page   |   E-mail
Other Vendor Information
Venue: God's Mountain Estate
Bridal dress alterations: Pure Magnolia
Jewelry: Club Monaco
Bridal Shoes: Ramon Tenza
Hair: Melissa Dacre
Makeup: Melissa Craven
The groom's pants and shirt: Neighbour in Gastown
Groom's shoes: Regal for nonnative
Tables / Chairs / Etc: Westminster Party Rentals
Catering: Joy Road Catering