When Janice and Anthony from Let There Be Light Photography shared Wai Jia & Cliff's beautiful wedding story with us, we were in tears and knew that this is the story we've been waiting for.  Wai Jia and Cliff's marriage is an amazing testimony of faith and true love.  How they walked through challenges in health, finances, distance, and family truly touched our hearts, and we just can't wait to share these with you. Sit back and enjoy this lovely story along with stunning images captured by one of our favorite photographers – Let There Be Light Photography.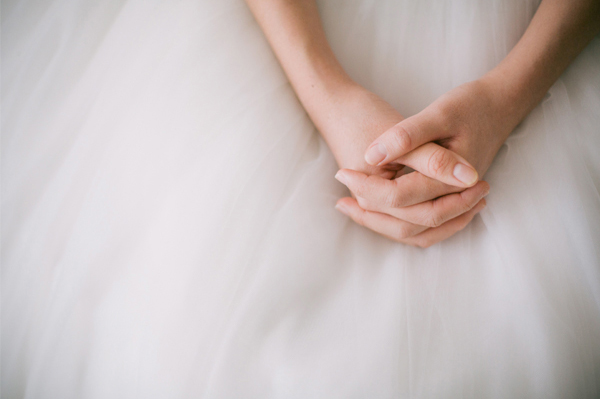 Praise: How did you meet?  What do you like the most about each other?
Wai Jia: Well, we didn't! He was in Canada, I was in Singapore! According to Cliff, he says he knew he wanted to marry me even before meeting me in person. A professional videographer who read about how we met from my blog made this video for us, to share our story. It was screened on our wedding day:
Cliff: Even before we met, my first reaction was, "She is the one!"  She loves triathlon, loves God, loves mission work and loves the poor.  I loved reading her blog even before we met, especially about her honest struggles with helping the poor.  Of all the qualities I like about Wai Jia, the one that stands out is her compassionate heart for those at the fringe of society.
Wai Jia: What I love about him- too many to list! His love for God and the poor, his tenacity to love big and love strong, his determination, unwavering loyalty, his positivity, sense of humour… and his biceps, haha!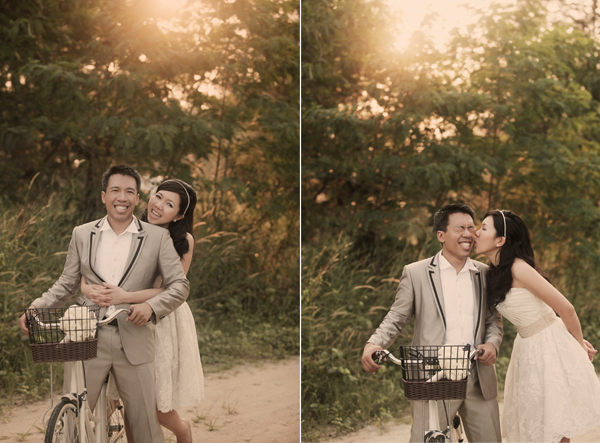 Praise: Tell us one or two of the biggest obstacles you've faced in your relationship, and how did you overcome them?
Wai Jia: As mentioned in the video, Cliff had a liver transplant due to Cancer when he was ten years old. Being a doctor and knowing all the side effects of the medication he is on, I had to overcome the major metal hurdle of being able to accept this. But seeing how God moved mountains for us to be together and how his life has been a miracle all these years, I realize I could embrace this by putting my trust in God. Cliff is now my greatest inspiration.
Cliff: The biggest obstacle to me was geographical.  When we first knew each other, I was in Canada and she was in Singapore.  After a month of emailing each other, I asked her if I could come and visit.  Wai Jia's mentors thought it was a bad idea. As much as I wanted to, I respected that.  For me, it was important to honor those who cared for her.
Back home, I had many commitments too. It would have been irresponsible and crazy to just pack up and move over for a stranger; so I had to release my desire and eventually told God I would be happy to be wherever He wanted me to be, even if it meant being single. What was so divine was how after I prayed, God opened doors and brought me to Singapore to work at a non-profit Christian organization so I could be where Wai Jia was.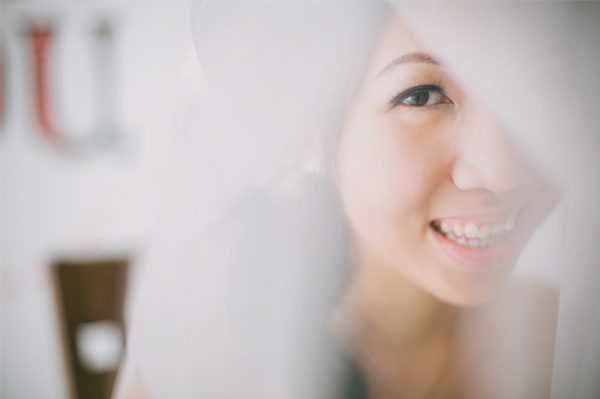 Praise: How did Cliff propose?
Wai Jia: He proposed from the start! Three months after writing to me, even before we met up in person, he wrote to me, "I think it'd be great for us to do ministry together in future!" I laughed so hard then.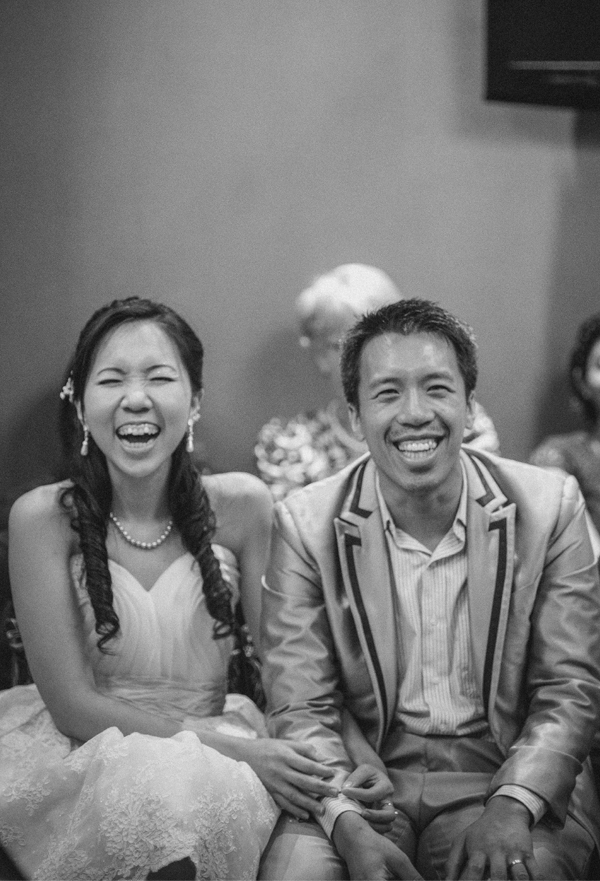 Praise: How long did it take you to plan your wedding? What was the first thing you've done in the planning process? What took you the longest time?
Cliff: On 5th November, 2011, I landed in Singapore to work and by 27th October, 2012 we were married.  As you can see, we got together quickly after 2 years of writing.  But we didn't start wedding planning until we had parental approval.  Before I proposed to Wai Jia in person, the first thing I did was to meet up with her dad to ask for his approval to marry his daughter.  Because I am a missionary and Wai Jia had just started working, he was not convinced we could be financially independent. We waited as we both believed that it was important to have parental blessings.
Wai Jia: Instead of disobeying them, we started to pray and fast. Amazingly, they had a miraculous change of heart and were extremely supportive! So our planning started only 6 months before the wedding day. First thing we did was to thank God and our parents. Finding out their expectations for the wedding was very important to us. Everything took off really quickly after that, so I guess what took us the longest time was waiting for our parents' approval. It was definitely worthwhile! Cliff is such a favourite with them now.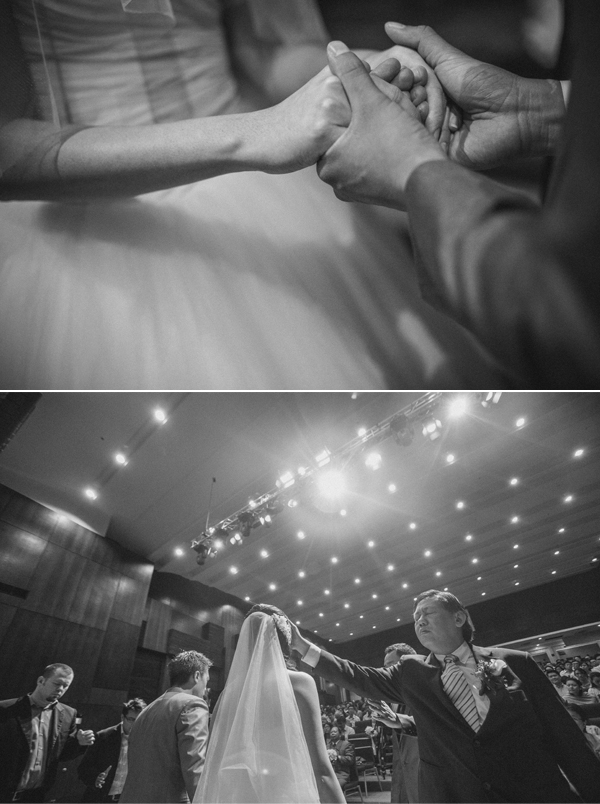 Praise: What is the most unforgettable thing you've experienced on your wedding day?
Cliff: I will never forget watching my beautiful bride and her dad walking down the aisle.  Since they started walking from the back, the clapping and cheering came from behind.  As the sound traveled to the front where I was standing, it felt like a wave.  It was an incredible scene.   To be standing there and realizing that it was God who had put us together was incredible.  I was in awe and praised Him for His Goodness!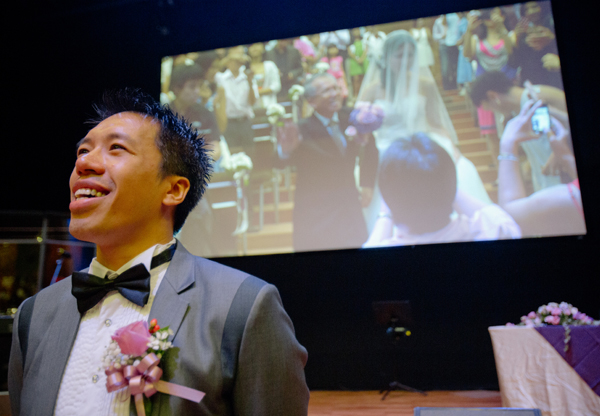 Wai Jia: Seeing how God provided for us.  Two months before we married, Cliff and I were greatly burdened by a ministry in Cambodia that rescues abused children trapped in trafficking and gives them hope and healing. We made a decision to give away all our wedding "angpows" (monetary gifts) to them. Seeing how expensive a wedding would cost, this was a big step of faith for us. Nonetheless, we knew God was challenging us to trust Him. This would just be the beginning of our journey as future missionaries together.
Truly, God provided abundantly for us. A professional videographer who read our story online made a video for free for us, a blog reader from overseas shipped over hand-made wedding decorations, friends with great photography skills offered their talents and a friend lent us his white convertible as our bridal car. Just days before our wedding, another blog reader generously offered to sponsor ALL our flowers, and the gentleman owning our wedding dinner venue waived the fee entirely!

Praise: Did you DIY anything for your wedding?
Wai Jia & Cliff: Plenty! "Save the date" invites, wedding invites, guest cards, our RSVP site… Wai Jia is an artist and children's book illustrator so she drew most of it according to the theme of the book "I Love You" that we launched on the day, which stars a Bunny and a Bear; Cliff is an IT specialist so he put everything together online! Friends from church also crafted beautiful décor pieces and items like flower-girl accessories.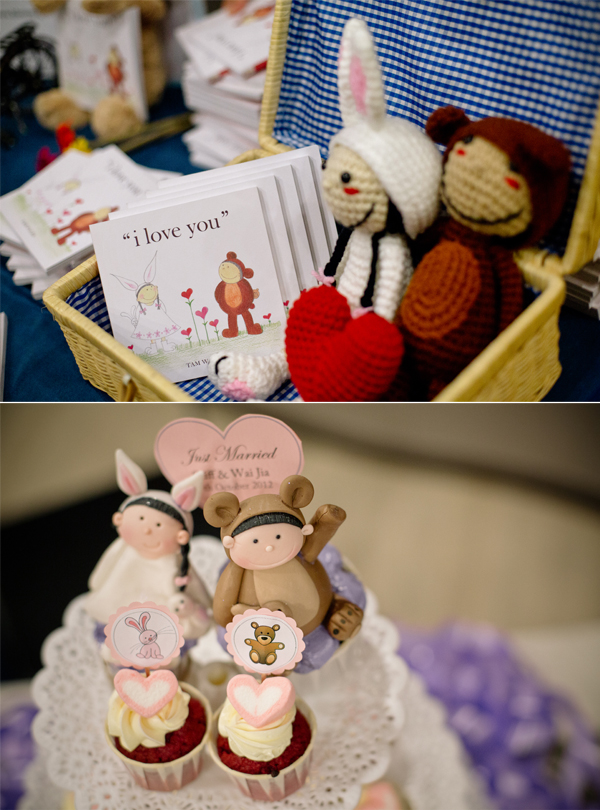 Praise: How did faith shape or change your relationship?
Cliff: I always tell Wai Jia that my goal in this relationship is to help her love God more than me.  The Christian faith is central to us and shapes every aspect of our relationship.
Wai Jia: Without God, we would never have come together.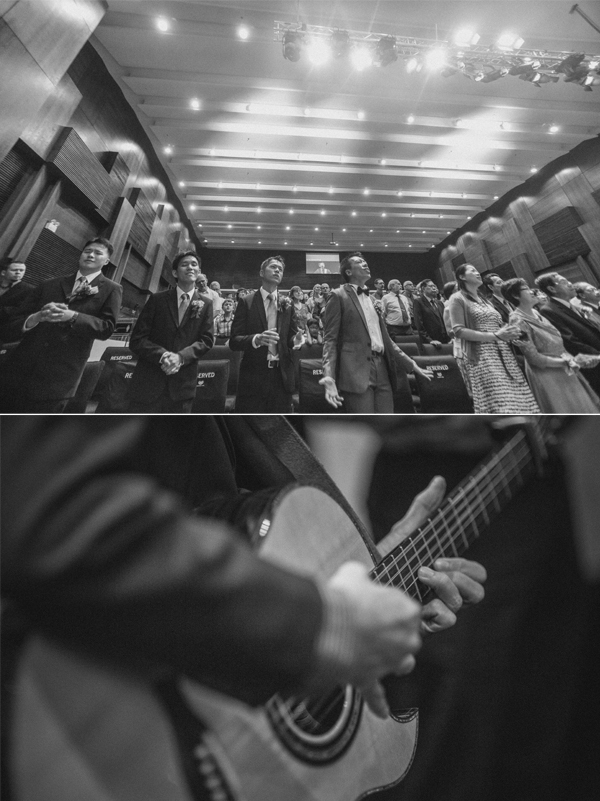 Praise: Any advice or tips for brides/grooms-to-be?
From Cliff to grooms-to-be:
1. I always believe that the health of my marriage is in direct relation to my walk with God.  As the head of the household, it is the man's duty to love his wife as God loves him.  This does not necessarily come naturally because by default, we are self-centered.   Only someone spiritually fulfilled can love unconditionally.  I ask myself daily – am I willing to die to my wants and needs and place her desires above mine?   A lot of disagreement, arguments, and conflicts stem from selfishness.  So my tip for grooms would be to love your wife unconditionally, the way God loves us.
2. My second suggestion to a groom-to-be would be to see your wife not merely as someone you chose to love, but as a gift from heaven. In Proverbs 18:22, it is written that: "The man who finds a wife finds a treasure, and he receives favour from God. "  Wai Jia isn't just a person I choose to spend my life with.   She is a gift from God and therefore I treasure her as such.  Just as God created Eve as the suitable helper for Adam, our relationships have divine significance.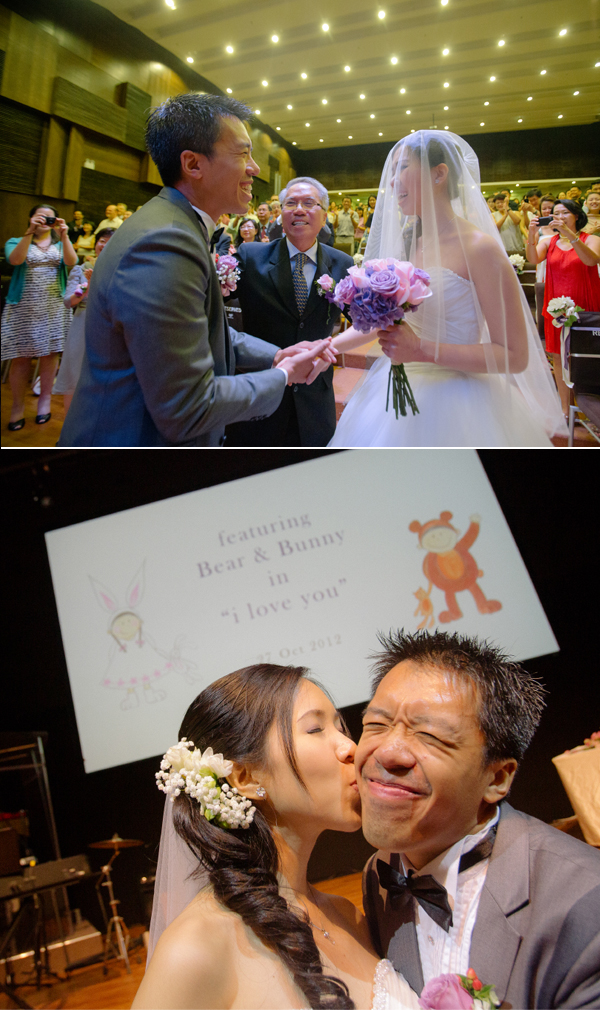 From Wai Jia to brides-to-be:
1. Love him – In the midst of the busyness of wedding and home planning, never place those demands above your husband-to-be's. Take time out to enjoy each other's company, thank him for the hard work he's putting in above the demands of his job, and make sure he has enough rest. Spend time to read about what it means to be a good wife. Invest in pre-marriage courses and books. In short, be the person he wants to marry.
2. Spare him – Shopping for wedding dresses week after week, looking at décor catalogues and choosing flowers might not be the kind of thing he gets as excited about as you. SPARE HIM! Go with your girlfriends instead. By giving him more time to rest and cast a vision for your future together, you might realize this might be the best for the both of you. Let him enjoy the wedding planning process too.
3. Honor him – Conflicts are bound to arise working on your first project together. Make a commitment to listen to him and choose to let go of what's not important. The whole point of a wedding is to celebrate your union to him, so don't let any wedding fancy take precedence! Things will go wrong on the wedding day. It will not be perfect. Just remember, it's not the wedding day that's of utmost importance, it's your marriage. No matter what happens (hole in your dress or a stained train- like mine!), keep your chin up and smile. Just remember, he loves you for the person you already are. Honor him by enjoying getting married to him!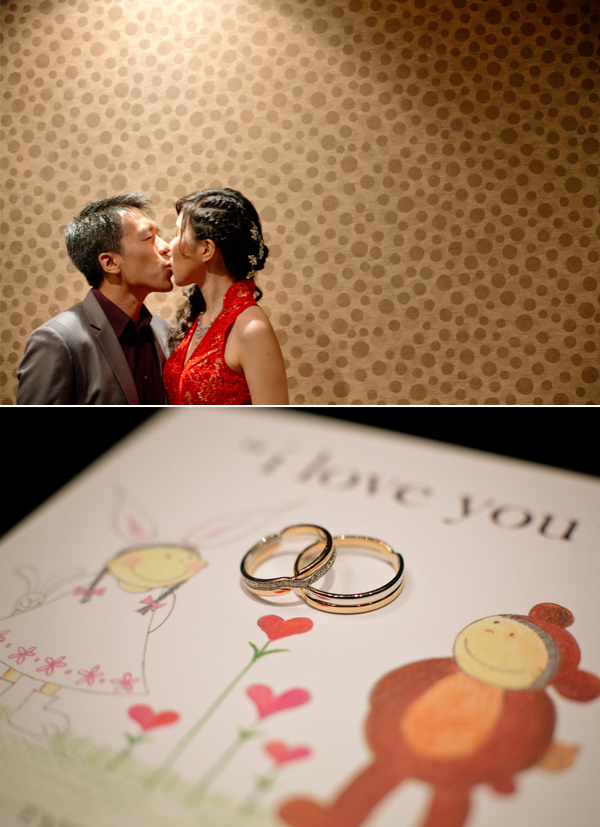 Wai Jia & Cliff: We hope our wedding will inspire many newly weds out there to marry with a mission, not only to love each other, but to love their community around them. Whether its fundraising for a worthy cause, or sharing about a compassionate mission you both have, making a difference to the poor or needy will no doubt make your special day memorable, not only for yourselves, but for others too!
Planning for a wedding really is a journey of friendship and faith. It's not about getting things done, but learning about each other through the process. Being pressed for time, being caught between family dynamics and learning to accommodate each other surely brings about many unexpected stresses, but with a good learning attitude, this journey will bring you two closer, and not further apart.
Photo Credit: Lan Ho
"Marriage is more than your love for each other. It has a higher power, for it is God's holy ordinance, through which He wills to perpetuate the human race until the end of time. In your love you see only your two selves in the world, but in marriage you are a link in the chain of the generations, which God causes to come and to pass away to His glory, and calls into His kingdom." (Dietrich Bonhoeffer)
Thank God for your spouse-to-be; ask yourselves if you are investing as much time in your marriage as you are in your wedding; take some time off to cast a vision for your future together. Laugh together, dream together. Remember, a wedding is for a day, but a marriage? That's for a lifetime.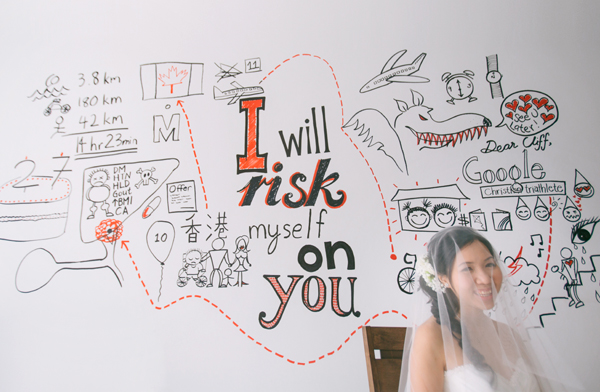 Find the photographer:

Let There Be Light Photography Website  |   Facebook

Follow Wai Jia & Cliff:

Other vendors:

Venue: Cornerstone Church, Singapore   |   Videographer: Josiah Ng