Motherhood is a beautiful thing, especially when a mama-to-be knows how to embrace the beauty of her growing bump with an effortlessly elegant maternity photo session. Intimate, darling and filled with love, these dreamy images captured by Milk and Honey Studio are surely a priceless treasure.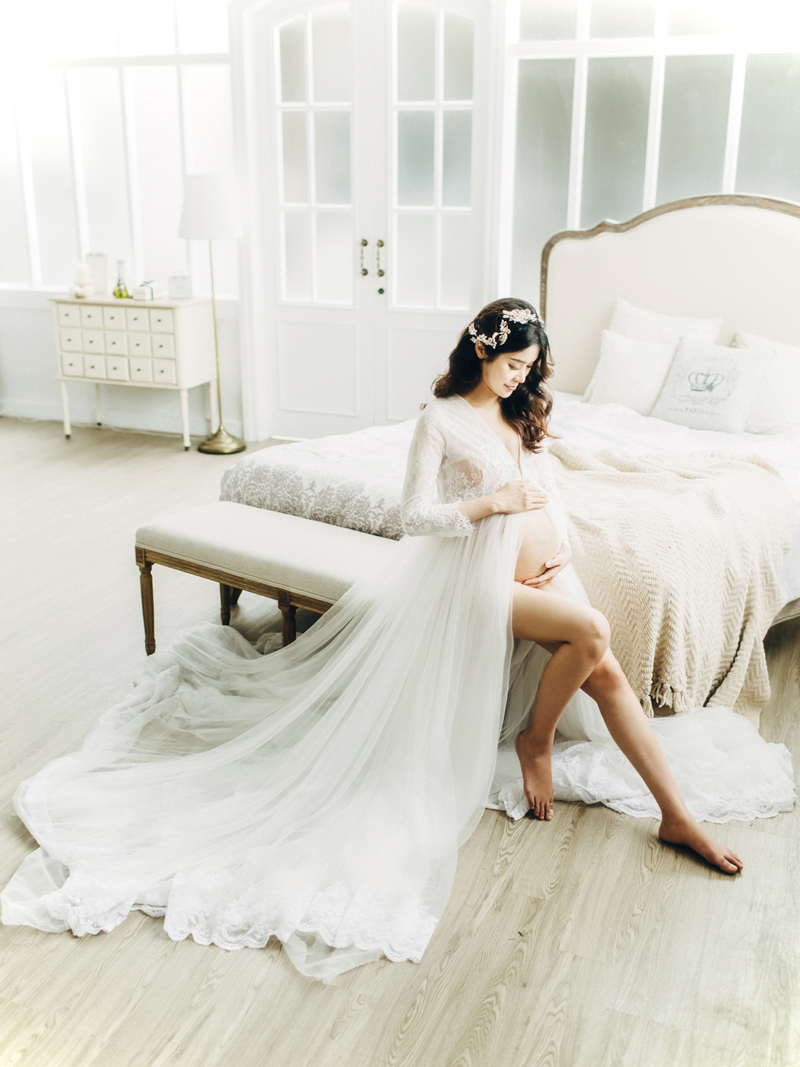 Thoughts from the mama-to-be
From the mom-to-be, Pink: Pregnancy is a big challenge for me, because I spend a lot of time working and traveling for work. There's no real maternity leave for me, and I worked all the way till I was 8 months pregnant. I know that life only gets busier after the baby is born, but I will try my very best to manage everything, and most importantly, be a good mom. My only hope now is that the baby will be healthy and be able to live a happy life.
What inspired you to take maternity photos?
Pink: My husband actually suggested it.  Although he couldn't join the photoshoot, we're both very happy with the photos captured by Peter of Milk and Honey Studio.  I'm also thankful for having a great makeup and hair artist, Elena.  These photos will forever be a treasure to our family.

Photo inspiration
From the photographer, Peter of Milk and Honey Studio: Before the photoshoot I had some discussions with Pink, and learned that she wanted her maternity photos to be beautiful and meaningful.
When I was chatting with her, I noticed that she's very hard working, and probably had some doubts about how she was going to manage her life after becoming a mom.  I could feel that she really wants to be a good mom, and make her child feel that even though mommy is busy, you are still loved and secured. Being a working mom is not an easy job.  This unconditional mother's love really touched my heart, and motivated me to capture images that illustrate the beauty and strengh of her feelings during pregnancy, so that one day her child would be able to feel this love through the images.
Thoughts from the photographer
Peter: During the photoshoot, Pink had non-stop business calls from work, but she handled the stress level very well.  When she took out photos of her ultrasound, I felt a miraculous connection between Pink and her baby; it was like the baby was comforting her and giving her strength. Everything else became small, all of a sudden the world was only evolving around family love.

About Milk and Honey Studio
We here at Milk & Honey studio specialized in capturing quality images for every occasions from weddings to maternity to family.
We are based in Taiwan but strives to create elegant and beautiful fine art photography anywhere in the world. With our experiences in both western and eastern weddings, we can ensure our high standard of photography across cultures and continents
About the photographer – Peter
Hi, my name is Peter, about 5 years ago I left an online marketing company to pursue my dream of being a portrait photographer. What I love the most about my work is capturing the pure love between the two individuals, not only do you see the joy between them but you can also feel the joy while capturing them!

Contact Milk and Honey Studio:

Website   |   Facebook   |   Instagram   |   E-mail   |   Tel: +886 981 437 858

Additional vendor information:

Makeup + Hair: Elena C. Makeup & Hair Artist   |   Gowns: JE wedding   |   Venue: MAK7 studio