Sometimes looking at a destination wedding gallery will have you daydreaming of a tropical getaway. Think crystal blue water, green grass, to-die-for floral moments, and paradise in every sense of the word. Oceanfront with family and friends, Yee & Chia said I Do under the blue skies of Kenting, Taiwan, surrounded by breathtaking natural elements. The beyond gorgeous day was captured by the talented photographer Mark Hong of The Stage.  We invite you to take a magical trip with us to beautiful Formosa.

The Love Story
From the Bride, Yee: We first met at a gathering hosted by common friends, and left a good impression.  Everything happened naturally afterwards: we started talking on the phone quite a lot, hanging out from time to time, and eventually started dating; it was all history from there.
The beginning of our relationship wasn't very peaceful and we fought often for little things.  We were both immature and didn't know how to control our temper. It took us almost a year to stabilize the relationship and learn how to get along.
Through our eight-year relationship, I've learned that there's no real perfect match, for true love is all about growing together as a couple, learning about each other, and never giving up.  I'm grateful for being able to marry a man who's the love of my life, and also my best friend, soul mate, and family.
The Proposal
Yee: On March 11th, 2016, at Chia's sister's wedding in Thailand, he proposed to me! When his sister was about to do the bouquet toss, instead of tossing her bouquet, she walked straight up to me, and handed me the flowers.  While the music started playing my favorite song, I turned around and saw Chia with balloons in his hand, surrounded by the flower girl and ring bearer holding up a "Marry Me" sign! Oh my god I was totally shocked and my mind just went blank!
Chia got down on one knee with the ring, and started talking to me. To be honest I couldn't focus on what he said, the only thing I could remember was "we've been together for 7 years, I think it's time to give you a real promise".  I said Yes while surrounded by everyone's blessing.

Wedding Design and Details
The Venue – A relaxed romantic outdoor wedding has always been my vision, so the first thing we did in the whole planning process was to find the perfect venue. Chia and I live in Hong Kong, but it's very hard to find an outdoor wedding venue locally, so we decided to have a destination beach wedding in Kenting, Taiwan.
Number of Guests – 50
Wedding Theme Color – Green + blush + peach
Favorite Special Details – The ceremony decor was one of my favorite parts, everything from the wedding altar to the candy bar was all like a dream come true.

Favorite Memory
Yee: The entire wedding day was totally unforgettable. The most memorable thing that truly touched our hearts was knowing that our family and friends are willing to travel all the way to Kenting to celebrate our big day with us. After getting off the plane, they had to travel around 2 hours by car in order to get to our wedding venue. We felt so grateful and loved!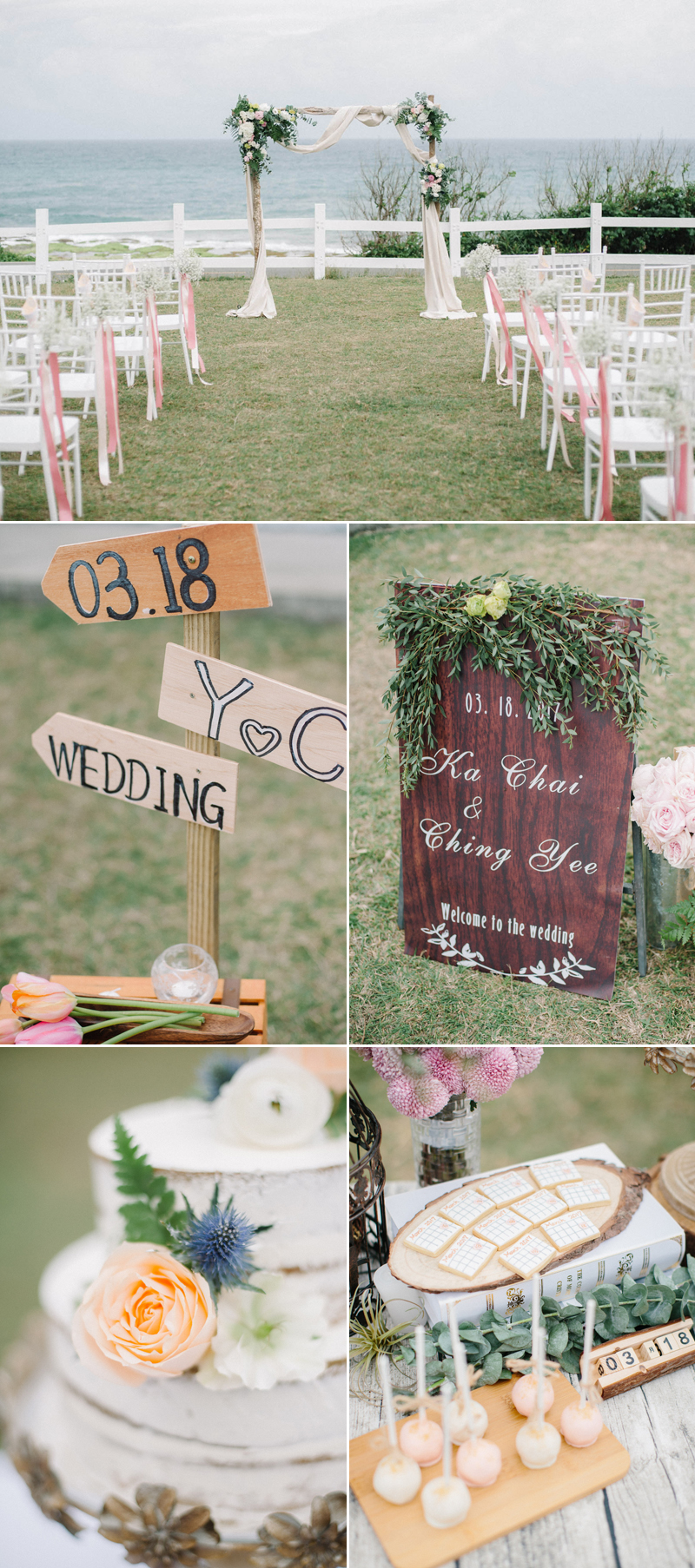 Advice to Other Couples
Yee: Wedding planning is a lot of work, and it's a challenge the couple needs to overcome together.  The good news is that the result is definitely rewarding. My advice is that don't be shy to ask your friends and family for help. I didn't want to bother my friends and tried to do everything myself, but ended up being so stressed out. Get the help you need and don't feel bad about allocating work to different helpers.

From the Photographer
Mark Hong of The Stage: I got to know Yee & Chia through the Internet about a year before their wedding day.  They were very organized and knew exactly what they wanted. From the venue to the style to all the little details, they were able to communicate their thoughts clearly so we could move forward in the same direction.
Yee & Chia visits Taiwan every year and travels around different cities, making this land a special place to their hearts.  They decided to have their wedding in the spring, when the weather was absolutely beautiful with gentle seaside breezes and a refreshing atmosphere.
Yee started the day in a gorgeous traditional Chinese gown filled with golden embroideries, and the white laced wedding dress she wore during the ceremony was just as beautiful. The groom's elegant semi-formal gray suit was the perfect fit for this destination affair.
After the sunset, everyone gathered under the magical hanging lights to share food and laughter.  While people were dancing in infecious joy, I was moved by the music and this whole loving atmosphere. All the beauty we've collected on this day will become unforgettable memories that last forever.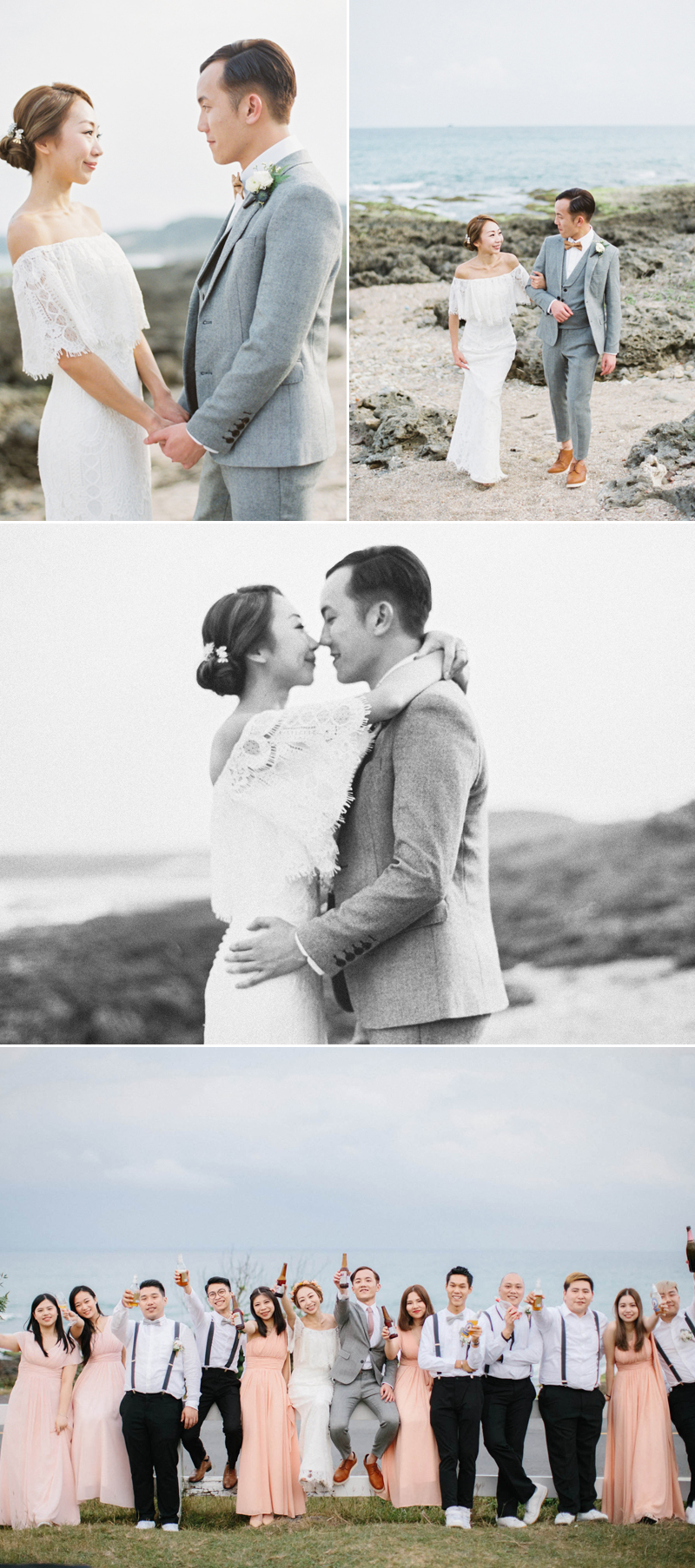 About the Photographer
Mark Hong is a wedding photographer from The Stage with a love for arts, music, and reading. Inspired by faith, Mark's desire is to freeze candid moments in an artistic, pure, and free-spirited way. "People" is always his focus, combined with emotions, scenery, nature, and life, Mark creates warm fine art imagery that is authentic and passionate. Mark's love for travel and adventure motivates him to keep searching for the beauty found in relationships worldwide. He has visited India, New Zealand, Italy, United States, and France, and is available worldwide to create images you will cherish forever.

Find the photographer – Mark Hong of The Stage:

Website   |   Facebook   |   E-mail   |   Tel: +886 2 2599 6489

Additional Vendor Information:

Makeup and Hair: Peggy Yu

Videographer: RedEye Cinema

Decor + Flowers: Kenting Wedding Decor

Music + MC: Light Jazz

Venue: Hotel de Plus & Caesar Park Kenting