The bridal session is one of those beautiful traditions that have regained popularity in recent years.  It is typically when the bride does a portrait session in her wedding attire before the wedding day.  The bridal session is not only a great way to test your wedding day make-up, hair, and dress, but also one of the few times that a woman gets all dolled up and polished to feel like a queen in a stress-free environment.
We believe that the bridal session should not only reflect your beauty, but also carry your dreams and values, because those are the meaningful things that represent who you are.  To inspire you on this concept, we've designed a bridal styled shoot featuring a ballerina, a musician, and a business woman with their unique dreams.
We are madly in love with these gorgeous dresses provided by Frocks Modern Bridesmaids, beautiful makeup and hair done by Jocelyn Huang, bridal accessories created by Davie & Chiyo, lovely desserts freshly baked by Pâtisserie Für Elise, and the romantic photos captured by Jas Grace Photography.  We hope this special styled shoot leave you inspired, and we really encourage all of you to continue pursuing your dreams as you step into a new journey ahead!
The Romantic Ballerina


The ballerina's dress and accessories:
Frocks Modern Bridesmaids: The Ivy & Aster Duchess ball gown is reminiscent of the ballerina outfit every little girl dreams of wearing. Its layers of blush tulle, fitted bodice, and delicate straps are sure to get a standing ovation.
Davie & Chiyo: A romantic trio of Swarovski pearl and crystal strands beautifully frame the neckline with a hint of sparkle (Celestial Necklace). Paired beautifully with the matching bracelet (Celestial bracelet), and goddess inspired ivory stranded head band (Athena headband). Classic accents for that special day.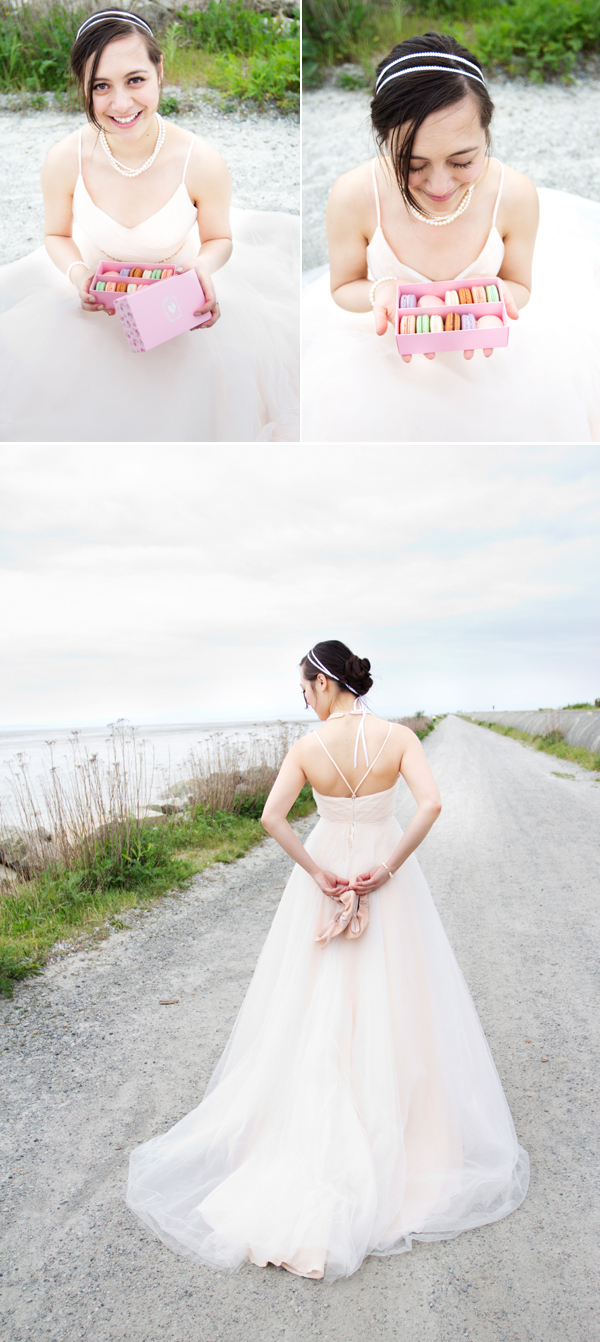 The Passionate Musician


The musician's dress and accessories:
Frocks Modern Bridesmaids: The Janine dress by Leanne Marshall features a structured lace bodice, and a bold organza folded skirt. This dress is perfect for someone who wants to stand out from the crowd and make a statement.
Davie & Chiyo: An intricate beaded rose applique shines in reflective silver. This simple and delicate head piece completes the look for a warm summer wedding (Beatrix headband).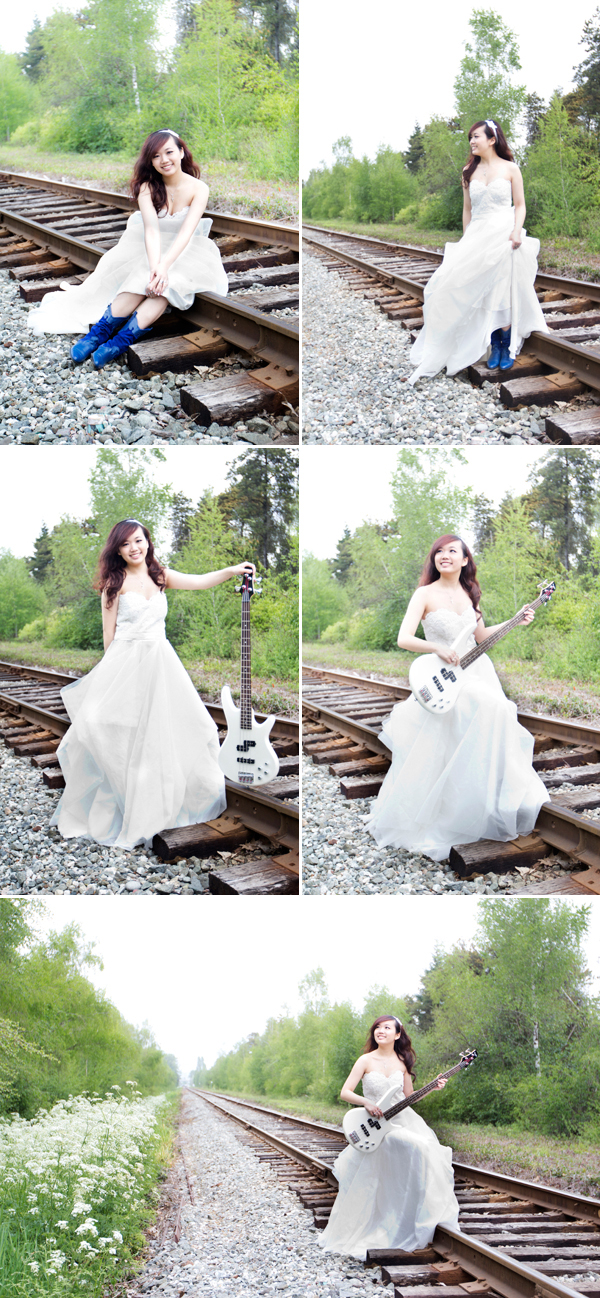 The Modern Business Woman
The business woman's dress and accessories:
Frocks Modern Bridesmaids:  Leanne Marshall's Julie dress suits the modern career woman with its clean lines and unique accents. The simple silhouette and soft, floating silk chiffon make this gown classic with a romantic twist.
Davie & Chiyo: Glistening strands of Swarovski crystals and pearls delicately intertwine for this bold yet ethereal statement piece (Trylium Garland Necklace). Paired together with the brilliant strands of Swarovski crystals (Galaxy Cuff) and Genuine leather envelope clutch (Jewelled Loveletter). Just the right amount of sparkle and elegance for the big day.


The Dream Brides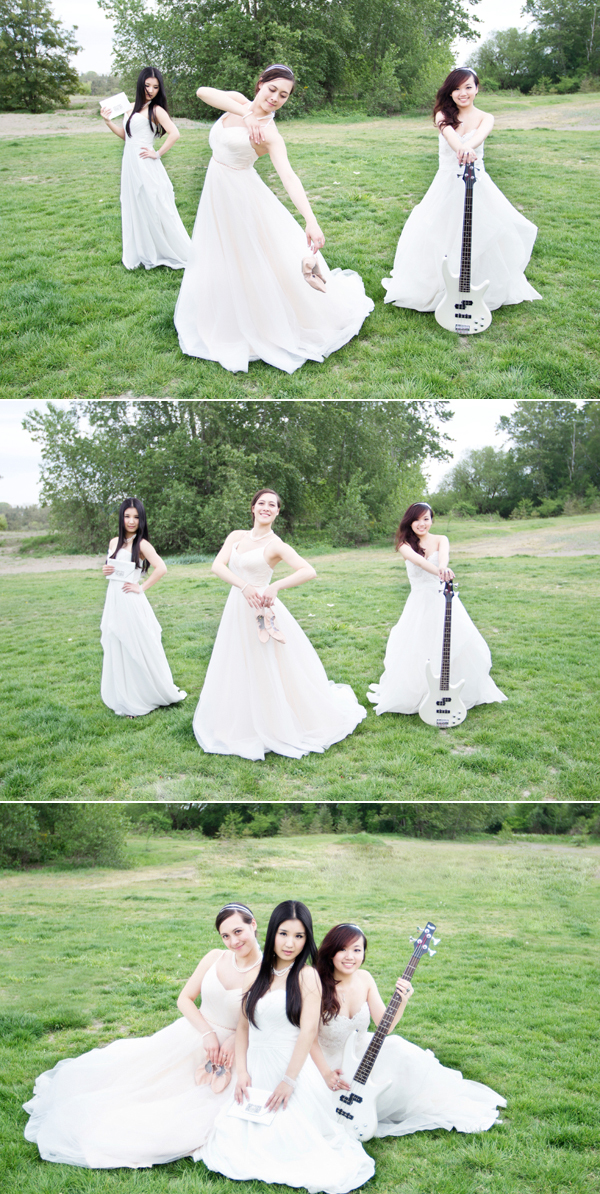 The Photographer's Thoughts
Jas Grace Photography:  Styled shoots are great projects for our creativity as wedding artists, especially a photo session like this where passion, dreams, emotions, and love are the main subjects to capture.  This photoshoot reminds me of Helen Keller's famous quote: "the best and most beautiful things in the world cannot be seen or even touched – they must be felt with the heart".
We wanted our shoot to illustrate the pure faith and hope found in the three brides as they embrace their dreams.  The girls may not be professional models, but they are definitely true believers.  I was amazed by the natural facial and physical expressions they had when I asked them to "show" their dreams.
I've been completely overwhelmed by each person's dedication to this dream project.  Thank you for being part of a stellar team and for driving this shoot further than I could have ever imagined.

The Makeup Artist's thoughts
Jocelyn Huang:  My dream started from makeup and styling.  Dreams and happiness are the biggest motivation behind every project, and this is how I felt about this bridal styled shoot.  The beauty of the natural smiles and confident expressions found in this shoot are my greatest encouragement.
Desserts from Pâtisserie Für Elise
Patisserie Fur Elise is a pastry shop and tea salon in Vancouver, BC, Canada.  Pâtisserie Für Elise specializes in French pastry, afternoon tea and various sweets. Come for some desserts to-go or enjoy your afternoon tea with friends in their Queen Anne-style Victorian heritage house that has been in Vancouver since 1893.

Find the vendors:

Design and Styling: Praise Wedding   |   Facebook

Photographer: Jas Grace Photography   |   Facebook

Dresses: Frocks Modern Bridesmaids   |   Facebook

Bridal Accessories: Davie & Chiyo   |   Facebook

Makeup & Hair: Jocelyn Huang

Desserts: Patisserie Fur Elise   |   Facebook