The most precious moments we love about this seaside wedding are the simple ones.  The pre-wedding first look, the madly-in-love way the couple looks at one another, the infectious joy when the groom makes the bride laugh,  and the deep family love that cannot be expressed through words. Maggie & Jon's wedding is a beautiful celebration filled with true emotions and countless precious moments. Get ready to feel the love as we share the complete look of their big day captured by Roger Wu.

The Love Story
From the Bride, Maggie: We met in summer 2009, on a stormy raining day in Taiwan.  A friend from my running club introduced Jon to me.  What was my first impression? "This guy is so skinny, and he doesn't seem to have very good fashion senses".
After being "friends" for about one and a half years, we decided to try it out and started dating. We've been through up and downs, lots of batttles and cold wars, but I guess because we're both quite stubborn and didn't want to give up easily, we managed to make it through!
From the groom, Jon: I had a really good friend, Vita, and we were part of the same running club. She brought Maggie along one day and I remembered thinking, "Hmm, she's a looker", and she had a bit of red hair, I remember that too.
Fast forward 4 years and Vita, Maggie, and I are on a beach in Singapore. I took out a ring I had kept secret until this point, it was a perfect beach proposal except for one thing – I forgot what I was going to say! So what came out was, "I really love you so, do you uh want to marry me?"
Through the years Maggie and I have gone through many battles and we see and feel the marks left on the other. Now we are learning how to grow together and walk the same path, it still is challenging, but it's starting to become more of an adventure where we face the challenges together.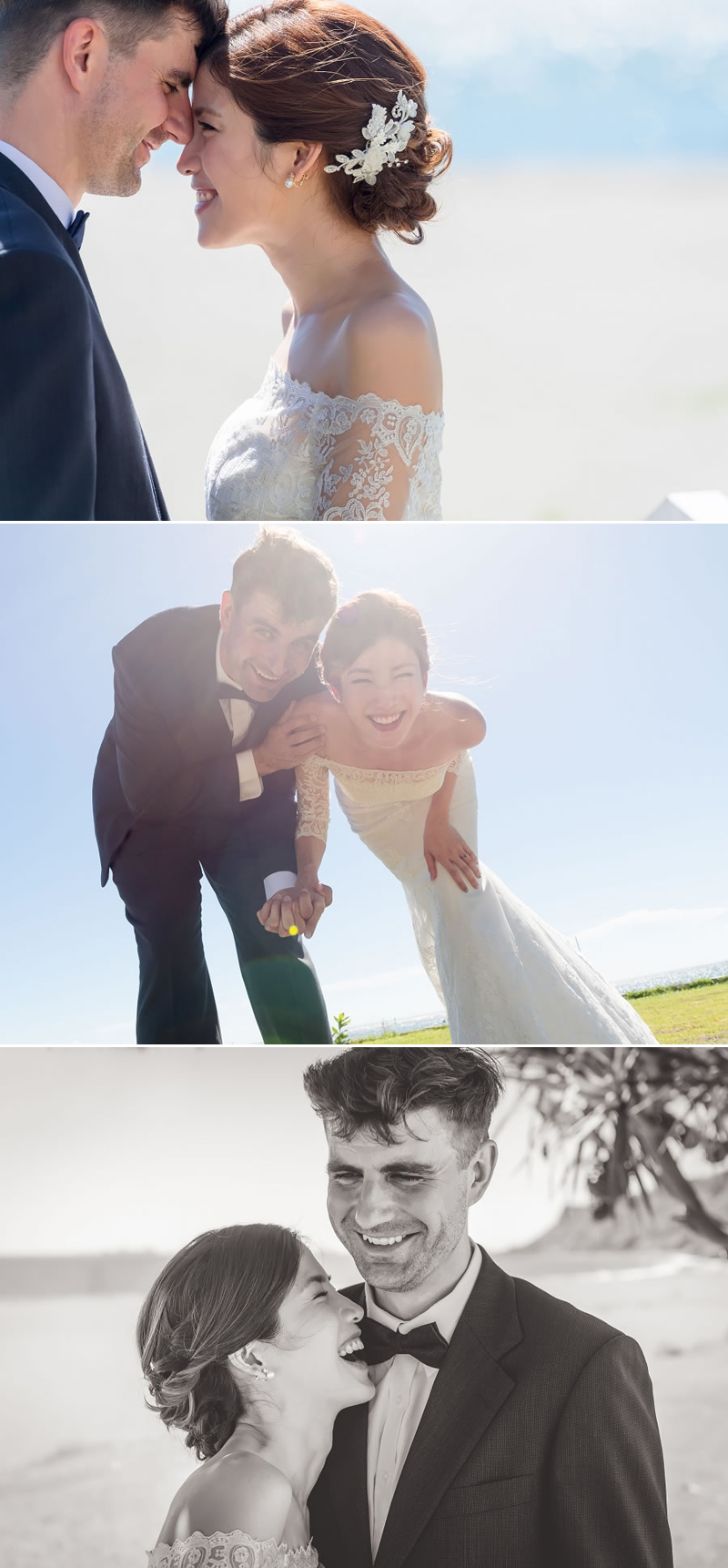 Wedding Planning Thoughts
Maggie: During the planning process, we kept on asking ourselves what's necessary and what's not.  Luckily, our parents gave us complete freedom to choose whatever style and details we wanted, so we could plan a wedding that's truly personal. However, due to different cultural traditions, some relatives and friends still had concerns about our decisions, from the color of the flowers to doing things the traditional way, etc.  It did create a little stress over time, but we tried our best to follow our own hearts – to have a happy wedding where family and friends come together for a relaxed celebration!

Wedding Planning Process
Maggie: We planed our wedding overseas, so everything had to be booked and set early, including all wedding vendors.  In the planning process, I acted like the Executive Director, and Jon was the Chief Financial Officer and Quality Controller!
Designs & Details
Wedding Theme Color: Navy blue
Number of Guests and Budget: Around 200 people; we tried to keep our budget within US $27K
Favorite Wedding Detail: We loved our wedding logo designed by my cousin
The Outfits
Maggie: I traveled to Hong Kong with my mom to search for my dream wedding dress.  We spent the whole day looking for "the one", and luckily, we found it!
We kept things simple for the groom's outfits.  Jon doesn't like to shop for anything except for tech gears, so we picked from what he had in his closet – a white dress shirt, dark blue suit, and a bow tie.
For the bridal party, we simply asked them to dress according to our theme color – navy blue dresses and dress pants.

Most Memorable Wedding Moments
Maggie: The most memorable moment for me was I had to express my gratitude towards our parents.  I couldn't look them into the eyes, and couldn't stop crying.  Jon was holding my hand tightly, and I saw tears in his eyes too. It was such an emotionnal moment.
Jon: One unforgettable moment from my wedding was my sister's suggestion. She said that the day will be over and you will be exhausted before you know it, you'll be surrounded by people all the time and won't have a moment to yourself unless you take one. So that's exactly what we did. After we got ready but before the wedding, we saw each other for the first time.  The first look was just the two of us (plus the camera at a distance), it was so magical, and we cried like babies, ugly crying, not beautiful crying!
A Groom's Guide to Planning a Wedding
Jon: Guy advice on having a wedding – I have two suggestions: one, be a part of the process, even though it's all about her, and two, get a good photographer, a picture is worth a thousand words so even if the wedding sucks, he'll make you look good. I got Roger Wu, I met him in Cambodia as he was taking pictures pro bono. He took some amazing shots, and we were lucky enough to have him shoot our wedding!

Thoughts From the Photographer
Roger Wu: I first met Jon in Cambodia when I was volunteering for photo documentary of high school students, and he was a teacher back then. When we got off the plane, our team lead taught us some basic local language, but I couldn't remember a thing. Jon was able to take notes and almost memorize them all! He could communicate fluently with local kids when we arrived.  All the children loved him and he was able to make them laugh all the time.  During this trip, Jon's attitude taught me that language is never the real barrier between people, as long as your heart is real, no distance can keep us apart.
It was my honor to photograph Jon and Maggie's wedding. I could really feel the love between them just by witnessing their interaction on the wedding day. Jon could always make Maggie laugh, and the way they looked at each other said a lot about their strong relationship.
One thing that touched me the most on their wedding day was family love.  When Maggie was speaking to her parents, her mom kept on comforting her and saying "don't cry", and on the other hand, I saw tears rolling down on the face of Jon's dad.  I was amazed by the bond of two different cultures, so different yet so close!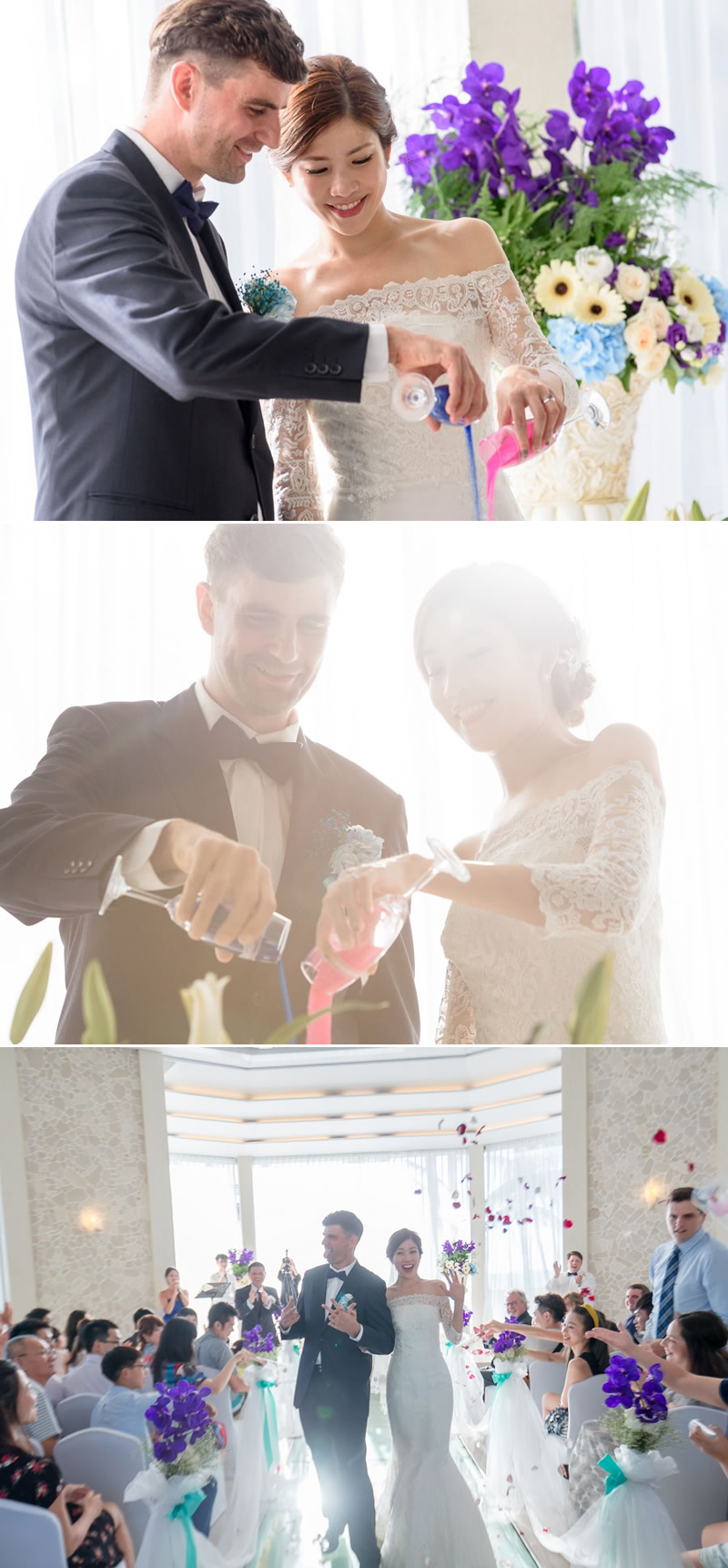 About the Photographer – Roger Wu
With a combination of his love for fine art and innate eye for storytelling, Roger Wu captures images that truly illuminate special moments in life.  He creates timeless images that reflect the special, unique details on your special day, from the biggest moments to the smallest touches.
Roger Wu: "I love photos with true emotions. Precious moments only appear once, but through photography, they can be captured and kept forever.  If you like my work, feel free to contact me, I look forward to witnessing your love story!"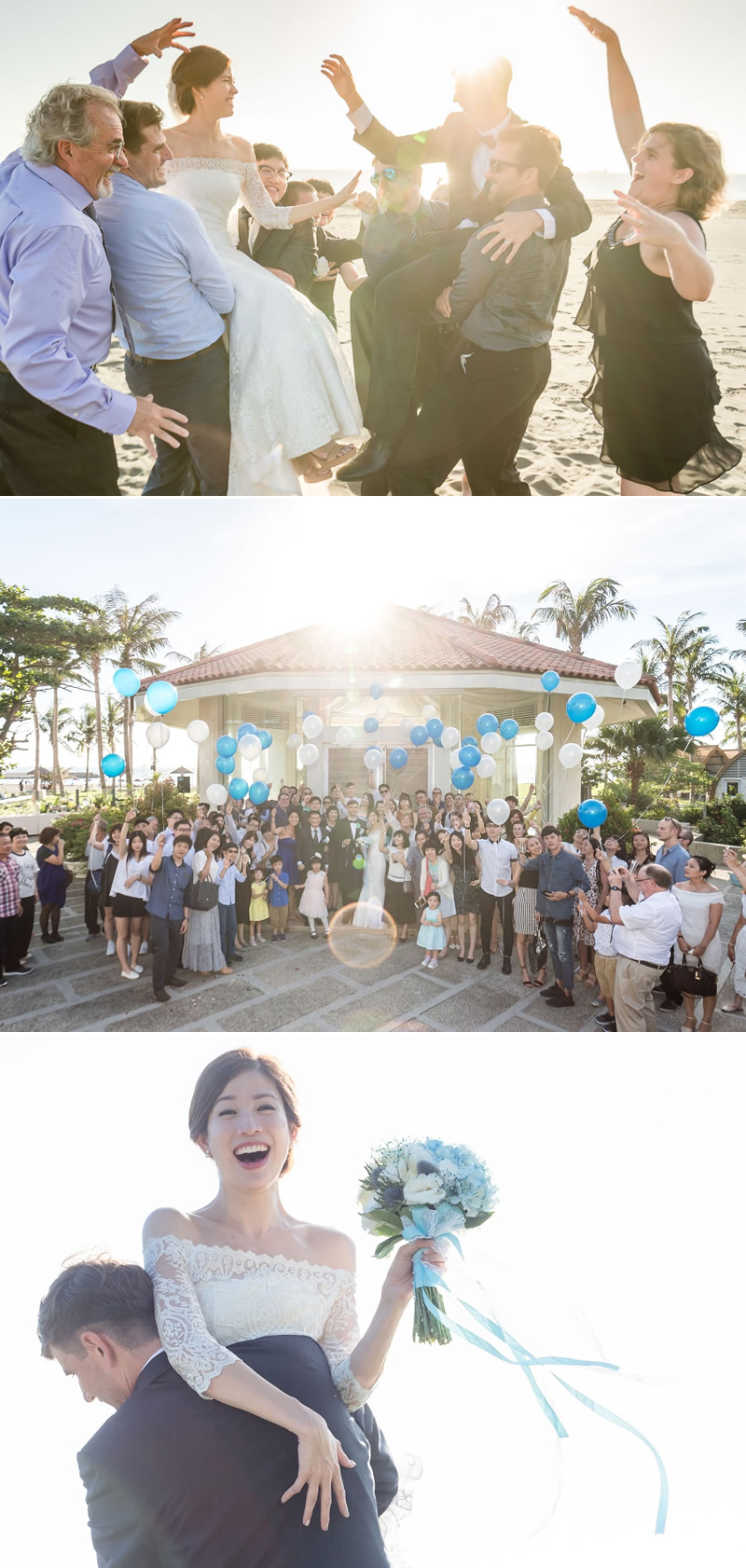 Find the photographer – Roger Wu:

Additional Vendor Information:

Wedding Photography & Cinematography:Roger Wu / Essence Photography

Wedding MC: Hiiler Wedding

Hair & Makeup: Mitty Makeup Studio