Many say that marriage is not really about what you receive, but what you give, and that true love is the best motivation for self improvement.   Arisa & Rod's relationship is a beautiful example of such powerful love.  "I have learned so much from her and she challenges me daily to be a better man", says Rod.  "I love him and I'm also learning from him", says Arisa.
Arisa and Rod decided to do something special to commemorate their 4 years of love and marriage, so they had the talented Mikako Chiba Photography take these gorgeous anniversary photos for them. Through her soft, natural, and romantic style, Mikako Chiba captured every moment of love beautifully.  We just can't get enough of these sweet and adorable scenes. Join us as we share Arisa & Rod's lovely story below.

Arisa & Rod's love story
How they met?
Arisa and Rod met at a restaurant in Victoria. It was love for the first sight for Rodney but not for Arisa.
How long have they been married?
They have been married for just over 4 years.
What they love the most about each other?
Arisa: Rodney accepts who I am. Doesn't judge me. He is always positive and supportive. I love that about him and I'm also learning from him. He is fun to be with and makes me laugh all the time.
Rod: Arisa also accepts me for who I am which is not easy to do. She is the most caring and thoughtful person I have ever met. I have learned so much from her and she challenges me daily to be a better man.
What's one common goal or dream that they share?
They both love being healthy and trying new things together. Having a healthy, happy, loving and caring relationship is always one of our main goals. One common dream is to eventually get a bulldog.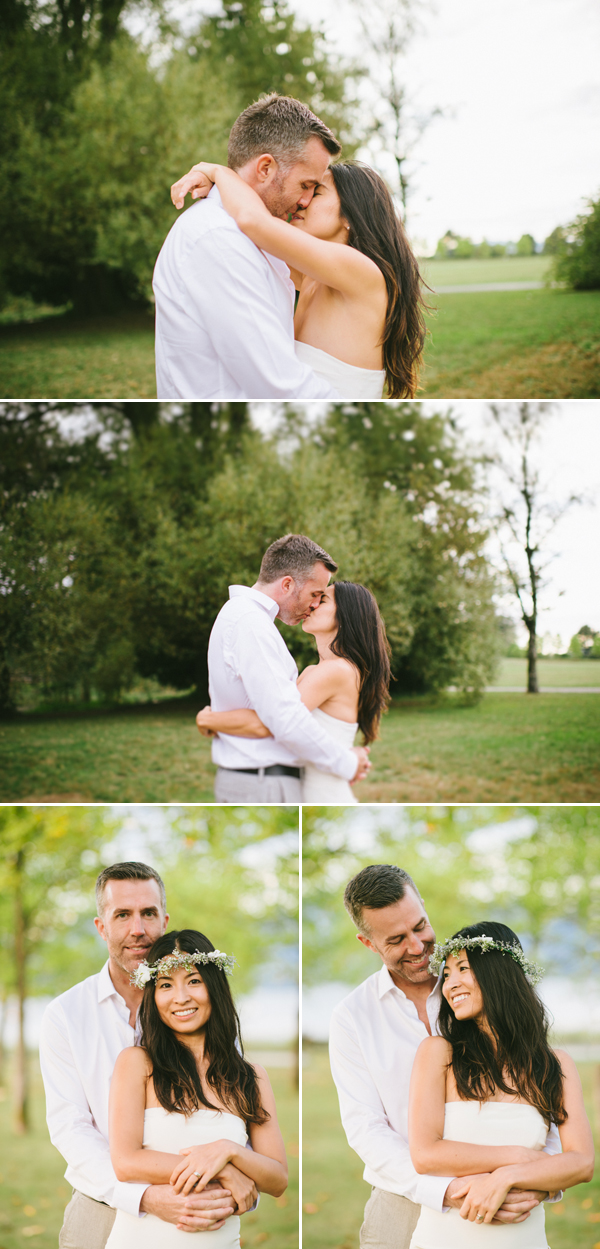 Inspiration behind this session
Mikako Chiba: Arisa decided to wear her wedding dress on the day of the Anniversary shoot.  With this in mind, part of my inspiration for this shoot was to capture the unchanging love between the two of them from the day they got married.  And the other inspiration for me was to provide them with memories of their Wedding Anniversary that they can look back at in the future.
Thoughts from the photographer
Mikako Chiba: When Arisa and Rod got married, Rod had just recovered from a health condition.  He had lost a lot of weight and they decided not to have a Wedding Photographer.  It was something that they had both regretted, not having a lot of pictures taken at their wedding.  This anniversary shoot would help to make up for that a bit in addition to celebrating their wedding anniversary.
About Mikako Chiba Photography
Mikako Chiba: I grew up in Kesennuma, Japan and moved to Vancouver in 2005. I was originally a Software Developer but I had a natural interest for photography and art in general. It was just something I did in my spare time to express my feelings. When I finally realized that my true passion was in photography, I made the transition to becoming a Wedding Photographer and have never looked back. I am very grateful that I can do what I love for a living.
As a Wedding Photographer, I have a photojournalistic approach. I place a lot of value in creating a bond/trust with my clients such that they are comfortable enough to be natural in front of my lenses. This allows me to become their voice and capture photographs that speak to people.

Find the photographer Find the photographer: