Every girl dreams to have a wedding that's romantic, joyful, and beautiful, starting from the ceremony, to the photo sessions, and all the way through the reception. It's ideal to hold the ceremony at a beautiful church, then have your photos taken with stunning ocean view, and finally, dance the night away in a joyful celebration.  However, many couples find it hard to plan such a "dream wedding" due to scheduling difficulties and venue restrictions.
When we received Shau Fun and Kent's wedding photos from one of our favorite photography teams, Axioo Photography, our hearts were screaming with excitement: "Isn't this like a dream-come-true?"  We are truly amazed by Axioo Photography's talent and ability to turn everything into a perfect fairytale.
Please join us as Axioo Photography shares Shau Fun & Kent's wedding story, along with their  beautiful wedding photos below.  Get ready to be filled with lots of gorgeous details and romantic inspiration today!

The Setting
Axioo: The day was blessed with the perfect Bali weather. The warm sun and light breeze accompanied the gorgeous bride as she waltzed in the entrance of the Conrad Chapel. No one could keep their eyes off of her. She was breathtaking. I personally loved how the wind caught the dress and her veil as her father walked her down the aisle. It was a beautiful moment.

Fun Bridesmaids & Groomsmen
Axioo: Shau Fun's bridesmaids seemed to have put a lot of thought into the games, all the while predicting the fun that was to be, and their prediction were right on! As for the men, they were up for anything. They embraced all the cards that they were dealt with in good spirit.

The Beach Session
Axioo: Before the intimate evening celebration, we had a little session on the beach, and I absolutely love every shot taken there. I loved that everyone were there to have a good time. They weren't too cool for the blazing sun in their faces or getting sand in between their toes. But most of all, I love how Shau Fun makes walking on the beach seem so effortlessly beautiful!

The Evening Reception
Axioo: The evening festivities were held in Phalosa Villa, near Batu Belig, a small intimate beachside venue. It was the perfect size for this party. The place was decorated with adorable little details that added Kent and Shau Fun's personalities to the ambiance. And everything else was just perfect. The music, the food, the heartwarming speeches, everything! I could have sworn I saw the moon smiling down on us.

The Dance
Axioo: Just when we thought that this vibrant couple had nothing left up their sleeves, they surprised us yet again with a stunning dance performance. Not one of those waltzes, more of a scene from Step Up Revolution. It was breathtaking and absolutely jaw-dropping!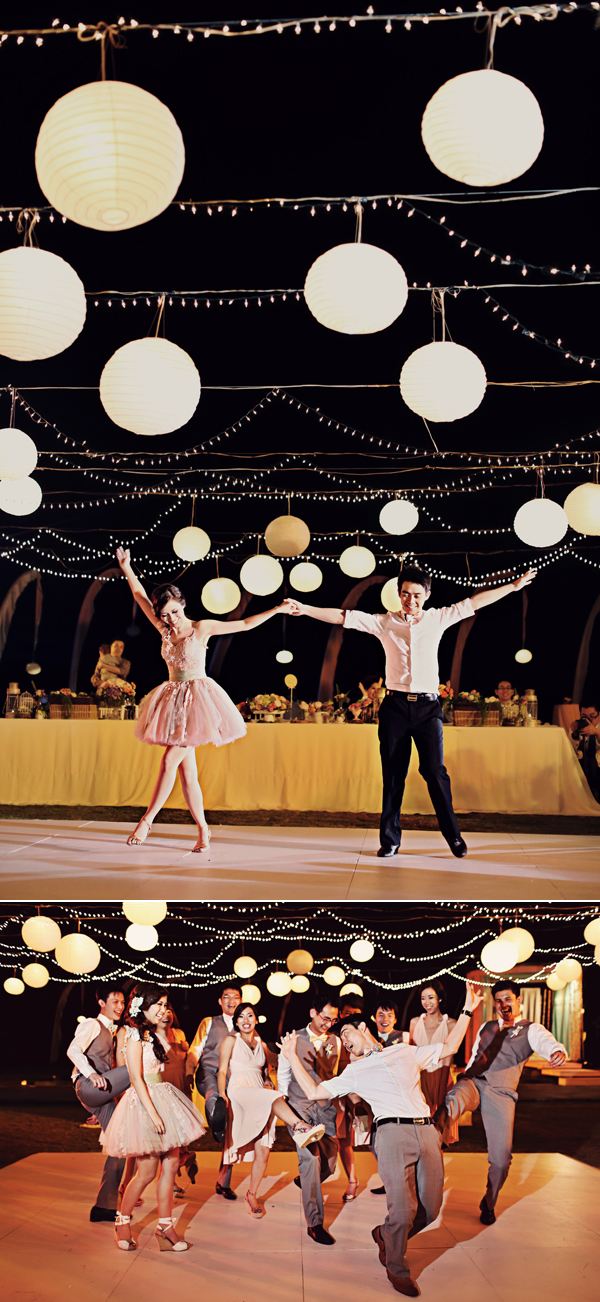 Into The Pool
Axioo: Nearing the end of the night, the guys quickly grabbed Kent and threw him into the pool. And Wet Kent didn't want to be the only wet one there, so he got at least a dozen others, including yours truly, into the pool with him. It was spontaneous, unexpected, and a whole lot of fun!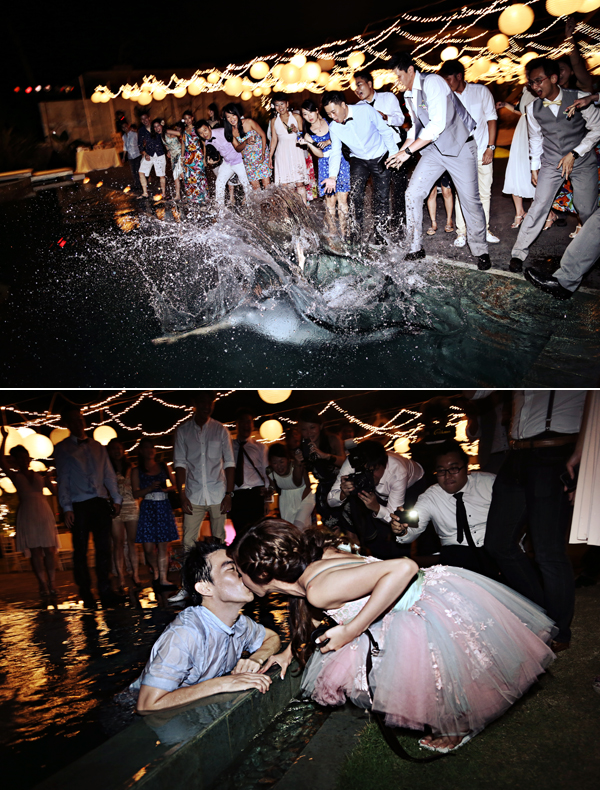 An Unforgettable Experience
Axioo: What a refreshing end to a night that we'll keep tucked in our hearts for a very long time. It was so "WOW!" and so sweet,  just as these two are and being there to celebrate with friends made the day even more special. Kent and Shau Fun, we love you! We wish you a lifetime of hugging, kissing, dancing and falling in love over and over again.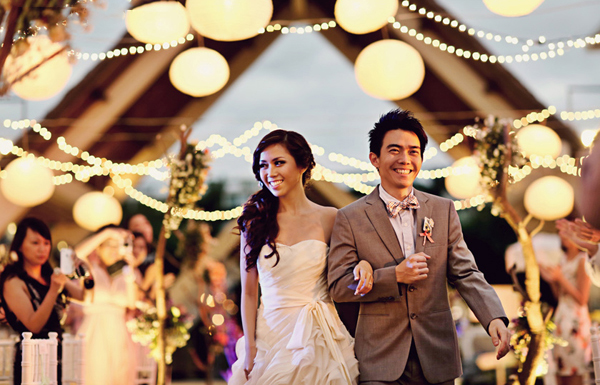 Thanks to Axioo Photography for sharing this beautiful wedding with us! Be sure to visit their website for more stunning work!
Wedding Vendors
Venue: The Conrad Bali & Villa Phalosa
Photographer: Axioo Photography
Bride's Dress: Vera Wang
Bride's Make Up: Lisa from LuVaze Salon
Music & Entertainment: Beyond Entertainment
Wedding Stationary: Le Paperville